Leicester City Council moves to merge libraries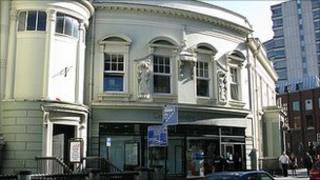 Two of Leicester's main libraries could be merged by the end of the year.
An application to move the Central Lending Library in Belvoir Street into the Learning and Information Library in Bishop Street has been submitted.
The city council said the £500,000 scheme would give a more modern and efficient central city library and make annual savings of £228,000.
Officials said they were looking at future options for the Belvoir Street building.
A spokesman for the council said: "The plans for the library have been developed with the comments and feedback collected from library customers in the consultation.
"The project will locate all central library services under one roof to make it more convenient and less confusing for users, with the new library being called Leicester Central Library."
Ross Grant, leader of the Conservative group on the city council, said: "Really they should have come forward with a full strategy for the entire library service and what we have got is, this year, a quick proposal to save some money now.
"We know the council is going to be under lots of budgetary pressures and we are worried that each year will just see more library closures."