Monkeypox: Sufferer from Leeds urges education over 'awful' virus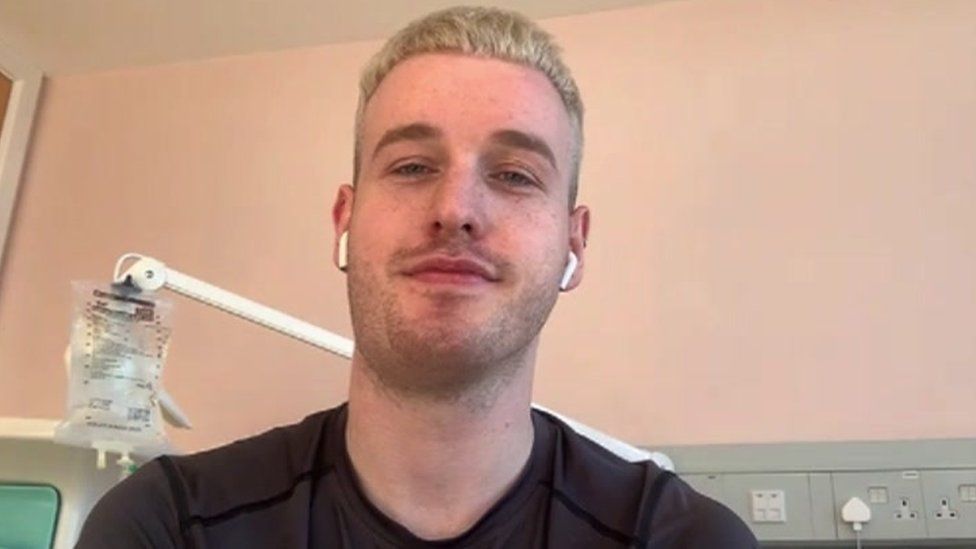 More people should learn about the symptoms of monkeypox, a man from West Yorkshire has warned after he was admitted to hospital with the virus.
Christopher Longstaff, 24, from Leeds, said when he became unwell a week ago he thought he had Covid or flu.
He said he was shocked when he was diagnosed with monkeypox and struggled to find information about the illness.
There are currently 49 monkeypox cases in Yorkshire and the Humber, the UK Health Security Agency (UKHSA) said.
Mr Longstaff said his symptoms included fatigue, a sore throat, headaches and a fever.
The condition also caused lesions on his skin and in his throat.
The monkeypox diagnosis was confirmed after a throat swab was taken. He was admitted to hospital the next day as his symptoms worsened.
Mr Longstaff said: "I was a bit shocked because I didn't know anything about monkeypox. There's not that much research out there."
He said he had looked for stories about other patients' experiences for reassurance, but instead found "scaremongering" posts on social media.
Mr Longstaff said he had been planning to celebrate Leeds Pride this weekend with friends, but now faced at least three weeks of self-isolation in his shared house.
He added that he wanted more people to make themselves aware of the risks of the illness.
"I wouldn't wish this on any person. I don't want this to be outlined as a 'gay virus', because it can be transmitted by anyone.
"Everyone can be susceptible to this awful virus," Mr Longstaff said.
There have been 2,600 confirmed cases of monkeypox in the UK over recent weeks.
Symptoms of monkeypox include a rash which starts on the face and spreads to the body.
The virus can be spread through close physical contact, sharing bedding, coughs and sneezes and most people experience mild symptoms.
While monkeypox is not a sexually transmitted disease, the UKHSA said "a notable proportion" of the recent cases in the UK and Europe have been found in gay and bisexual men.
"So we are particularly encouraging them to be alert to the symptoms and seek help if concerned," it added.
Anyone concerned they could be infected was urged by the UKHSA to phone NHS 111 or contact their local sexual health clinic, but call or email ahead of a visit.
LGBT+ organisations have written to health secretary Steve Barclay MP to ask the government to take urgent action to tackle the rising number of monkeypox cases.
Members of Conservative, Labour, Liberal Democrat, SNP and Green LGBT+ groups were among those who signed the letter, which said "clear, non-stigmatising messaging" about the virus was needed.
"Monkeypox is causing real fear and anxiety within the LGBT+ community and so targeted communication to those most at risk is essential," the letter said.
Related Internet Links
The BBC is not responsible for the content of external sites.