Hebden Bridge fire: Fund for destroyed businesses established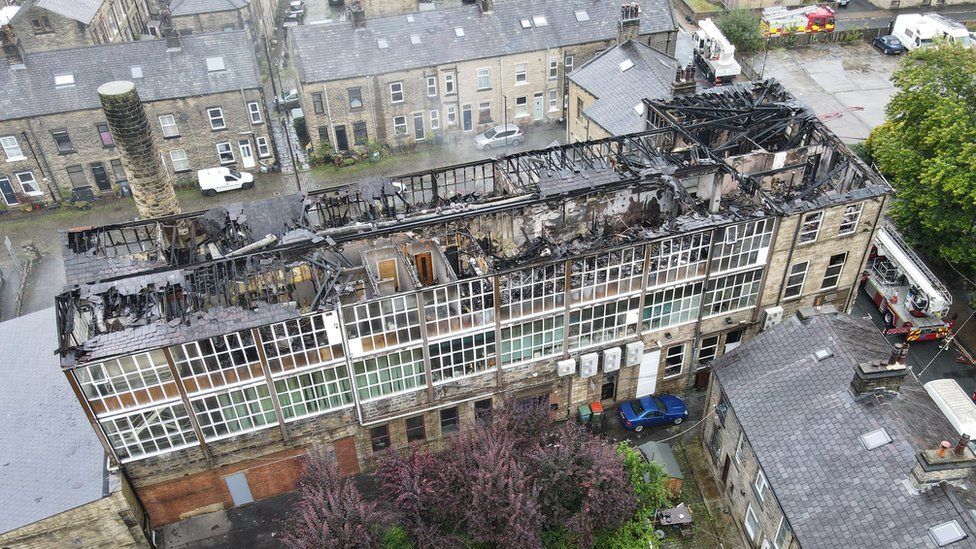 A fund to help businesses destroyed in a large blaze at a former Victorian mill in West Yorkshire has raised more than £13,000 in 24 hours.
The fire is believed to have begun at the La Perla restaurant on the ground floor of Hebden Bridge's Burlees House, in the early hours of Tuesday morning.
At its height, 80 firefighters fought the Hangingroyd Lane blaze.
The appeal was established by the Community Foundation for Calderdale.
Its chief executive Steve Duncan said: "This appeal fund is to support the businesses who've lost stock and equipment in the fire.
"A small business is more than just an income. It's someone's passion and dreams. Let's support them to rebuild."
The building housed a number of independent businesses and artist's studios.
Artist Hannah Nunn woke up on Tuesday to a string of text messages about the fire.
"My heart was obviously in my mouth and I read a text from a friend which said what had happened and said 'your studio is burnt'."
She said she was still in shock and only just realising what she had lost.
"I've been in the studio for 10 years and it's a place where I've gathered all of my inspiration, all of my products and all of my creativity.
"I've got no idea what happens from here, I've got nothing I can send anyone or sell. Thankfully I was insured."
Fellow artist Julia Ogden, who appeared on the BBC series Home is Where the Art is, also lost her work and equipment in the blaze.
"Just complete shock, just awful I've been here for such a long time," she said.
Ms Ogden said she had no insurance, though a friend had set up a separate fundraising appeal to help her. That appeal has already raised more than £3,000.
"We are so lucky in Hebden that the community is just amazing and they always support art and creative people.
"I've already had so many messages from customers and lovely people and friends," she said.
"Hebden Bridge always rises again."
Calderdale Council said staff would be available at Hebden Bridge Town Hall for the rest of the week to offer help to those affected by the fire.
An investigation into the cause of the fire has begun.
Related Internet Links
The BBC is not responsible for the content of external sites.