Sebastian Kalinowski: Boy hit more than 100 times, video shows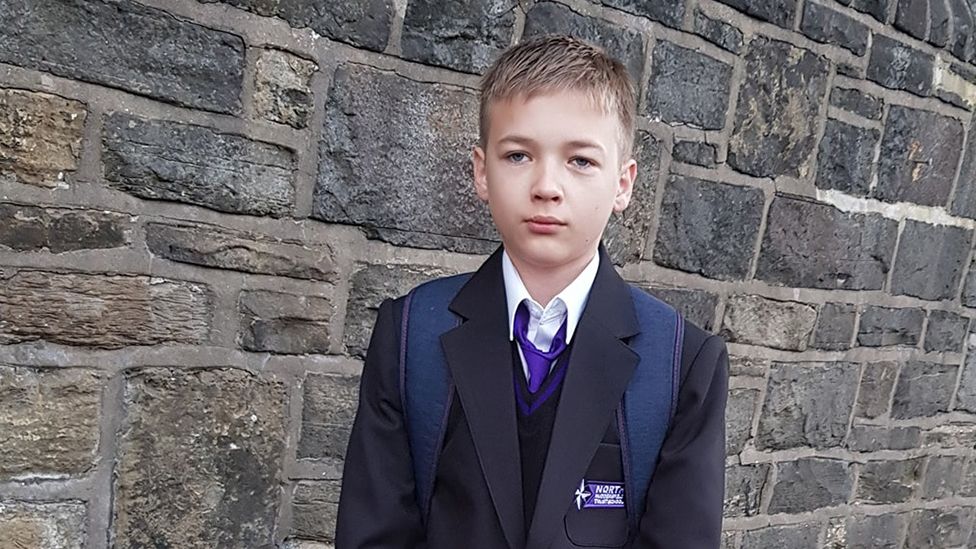 CCTV showing a 15-year-old boy being hit more than 100 times in 30 minutes have been played at a murder trial.
Sebastian Kalinowski's mother Agnieszka Kalinowska and her partner Andrzej Latoszewski deny murdering the schoolboy in August 2021.
Leeds Crown Court was shown a clip taken two weeks before the teen's death of Mr Latoszewski repeatedly hitting him at their Huddersfield home.
Mr Latoszewski has admitted manslaughter.
In the video, dated 30 July 2021, Sebastian is grabbed by the shirt and pulled around the family's living room.
Mr Latoszewski then holds his arms while kneeing the boy in the chest and stomach repeatedly.
At one point in the video, Mr Latoszewski stops hitting Sebastian to wipe sweat from his face and arms with a towel before resuming his attacks.
Sebastian is seen breathing heavily in the corner of the room as Mr Latoszewski strokes a cat, and Ms Kalinowska watches television while eating toast.
Cameras installed at the home by the couple were put up to "monitor and exert control over Sebastian remotely", Prosecutor Jason Pitter QC previously told the court.
The cameras captured Sebastian's final moments during the school holidays, with the prosecution adding he spent much of the day in his room, staring at a wall, only being allowed to leave to do chores, eat or do exercise.
Video on the following two days showed Sebastian being hit by both his mother and Mr Latoszewski as he attempted to perform push-ups or sit-ups,
The prosecution told the jury a web search was made on Mr Latoszewski's phone late at night about how to realign a broken thumb.
In subsequent footage, Mr Pitter said Sebastian is pictured being whipped with an extension cable.
Sebastian was found unconscious in the bath on 13 August and was later pronounced dead in hospital.
He died as a result of untreated rib fractures, the prosecution said.
Related Internet Links
The BBC is not responsible for the content of external sites.