West Yorkshire commuters face rail and bus strike double disruption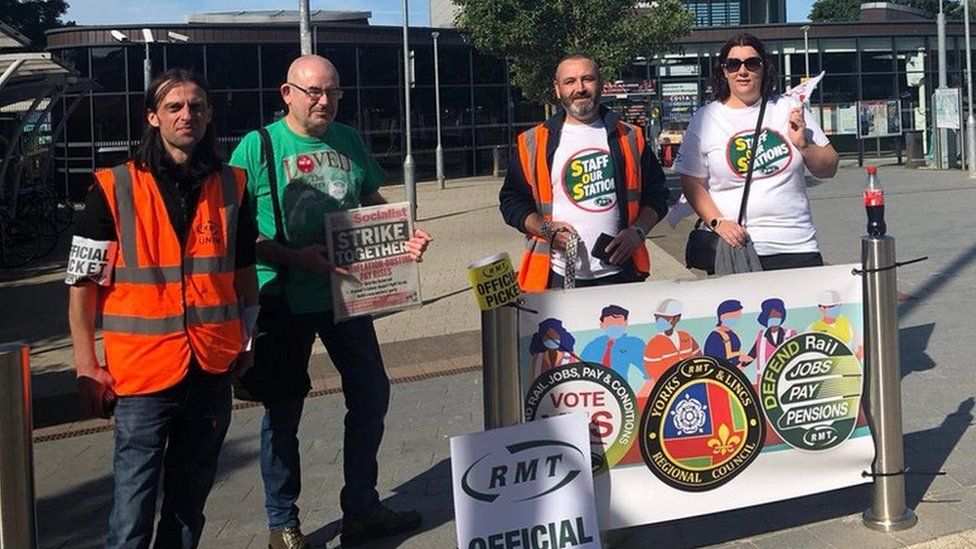 Commuters in West Yorkshire have faced a double dose of travel disruption as Tuesday's national rail strike coincided with an ongoing bus strike.
Members of the RMT rail union have been taking action in a row over pay and redundancies, with two more strikes planned for Thursday and Saturday.
Train passengers have been advised not to attempt to travel on strike days.
About one in five train services were expected to run on the days rail workers were taking action, but passengers were warned services would start later and finish much earlier.
Commuters have told the BBC of their travel experiences on the first day the bus and rail strikes were held simultaneously.
In Leeds, Hilary Tilford, from Bridlington, said she was visiting her daughter and she planned to return home on Wednesday, once rail services were running as normal.
She said: "I don't blame them for it, but it's just making it a little bit harder.
"I feel sorry for people who are working. But if it's got to be done, it's got to be done."
Michelle Smit said she was struggling to travel from Selby in North Yorkshire to her workplace in Leeds: "I've looked at the trains - no trains today.
"I'm sitting on a bench waiting for a bus - but no buses.
"It's awful. I'm going to text my boss, see what his opinion is and maybe try and get a taxi into work."
In Pontefract, hairdresser Jenine Hunter said the bus strike meant many of her weekly clients, many of whom were older, struggled to make their appointments.
She said the rail strike might continue, much like the Arriva Yorkshire action.
"I think it's going to escalate like what has happened with the bus strike. It just keeps on going, doesn't it?" she said.
"I am sympathetic. We all want more money don't we? The cost of living has gone through the roof.
"It's not helping the situation, though, for everybody else it's affecting."
In Leeds, security guard Daniel Carter said the bus strike was leading to an £18-a-day price tag in taxi fares for him to get to and from work.
He said he understood why the bus workers were taking action, but he added that "it causes trouble for everybody else".
"Hopefully Arriva pull their finger out and give them what they want," he said.
Meanwhile, commuter Michael Smith said he would usually travel from home in Selby to York or Leeds.
However, he said that this week he was having to use his annual leave as he could not travel to work.
"I've arranged days off specifically so it's not affecting me," he said.
"I can't work from home. I'm out and about quite a lot and I need to be customer-facing.
"I'm frustrated, but I've got to be flexible."
Related Internet Links
The BBC is not responsible for the content of external sites.