Sebastian Kalinowski: Murder accused laughed and smirked after boy's death, court told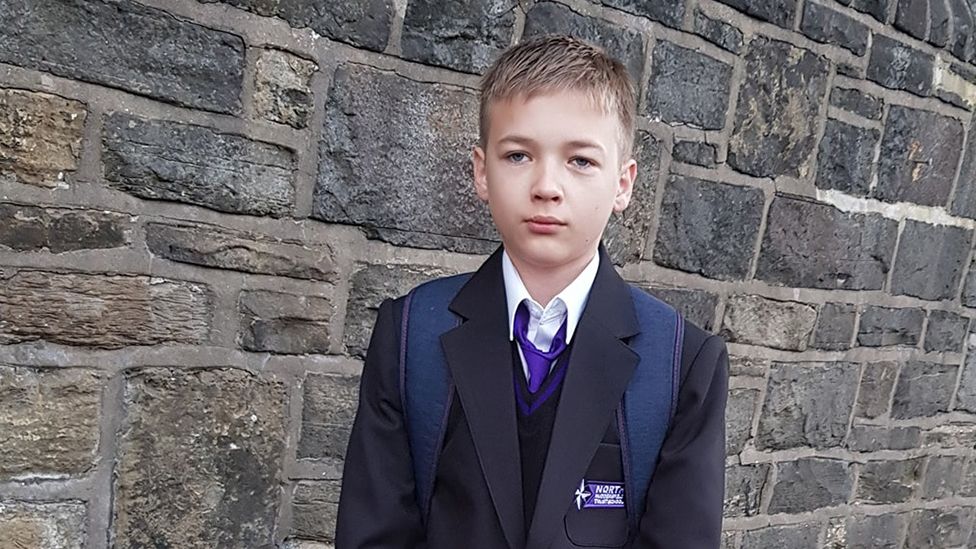 A man accused of murdering his partner's son was seen "laughing and smirking" shortly after the teenager died, a court has heard.
Sebastian Kalinowski, 15, died in hospital in Huddersfield in August 2021.
Prosecutors allege his mother Agnieszka Kalinowska, 35, and her partner Andrzej Latoszewski, 36, subjected him to a campaign of abuse before his death.
Both deny murder though Mr Latoszewski has pleaded guilty to manslaughter.
On Thursday both also entered a guilty plea to a charge of child cruelty, having previously denied the offence.
The court heard Sebastian was taken to Huddersfield Royal Infirmary on 13 August after he was found unconscious at his home.
Despite efforts by ambulance crews and hospital staff, he was pronounced dead before midday.
Giving evidence trainee nurse Sophie Sykes said Mr Latoszewski appeared "upset" but she also observed him "laughing and smirking" while recounting stories about Sebastian to hospital staff.
She said his behaviour had seemed "a bit inappropriate".
She told jurors Mr Latoszewski had described Sebastian as "a good child" and that the worst punishment he had ever received was a "smacked" backside.
Dr Julian Garside said during CPR attempts he noticed "multiple areas of bruising" on Sebastian's body, including his forehead, jaw, chest, abdomen, and limbs.
The court heard doctors also discovered further bruising on his body which raised "significant concern".
Det Insp Oliver Coates of West Yorkshire Police told the jury that when he quizzed Mr Latoszewski about it he said Sebastian had "problems with him fighting and him falling out of a tree".
Prosecutors claim Mr Latoszewski and Ms Kalinowska dealt out a series of escalating "punishments" on Sebastian for alleged bad behaviour, including being hit with a piece of wood and whipped with a cable.
A family friend, who gave evidence on Thursday, said Mr Latoszewski told her Ms Kalinowska was "too soft" on Sebastian.
The witness however said she believed punishments handed down to Sebastian for apparent playing truant and lying, which included being banned from family trips, were "too severe".
Related Internet Links
The BBC is not responsible for the content of external sites.