Qari Asim: Imam removed as government adviser over film protests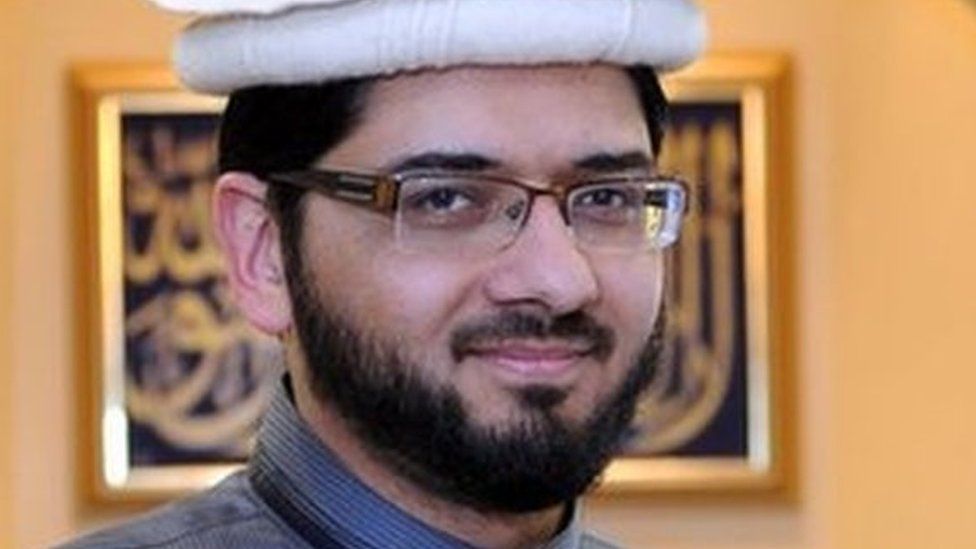 An imam has been dismissed as a government adviser after backing calls for a film about the Prophet Mohammed's daughter to be banned.
Qari Asim, 44, was removed from his role as an Islamophobia consultant after protests against the film The Lady of Heaven.
Supporting the campaign "to limit free expression" precluded him from continuing, the government said.
Mr Asim said he did not attend or organise any of the protests.
In his response to the decision, published on Twitter, he said the government's contention he had acted to undermine democratic values was "inaccurate".
Mr Asim, imam of the Makkah Masjid mosque in Leeds, was told his appointment as deputy chair of the government's Anti-Muslim Hatred Working Group had to end in a letter from the Department of Levelling Up, Housing & Communities.
It said: "Your recent support for a campaign to limit free expression - a campaign which has itself encouraged communal tensions - means it is no longer appropriate for you to continue your work with government in roles designed to promote community harmony."
The solicitor was told his actions were "a clear effort to restrict artistic expression" and that the campaign had "led to street protests which have fomented religious hatred".
The government said that on Monday Mr Asim had posted on Facebook: "We have been working with many brothers and Imams across the country to liaise with the cinemas….Some Imams have taken a view to protest and others are in dialogue with the cinemas trying to resolve the situation."
The letter continued: "Resolving the situation, as you made clear, meant cancelling screenings. You wrote that "in some places we have been successful and those cinemas will no longer be showing the movie".
Mr Asim was said to have advertised a protest in Leeds, with details of its timing and location.
"This clear involvement in a campaign to limit free expression is incompatible with the role of a government adviser," it said.
"You will have no doubt seen reports of the scenes outside different cinema venues. These included deeply disturbing videos of sectarian chanting and anti-Shia hatred.
"As you know, anti-Shia hatred is a long-standing and very serious issue, which must be challenged at every opportunity as part of a wider effort to combat anti-Muslim hatred.
"We were disappointed to see that you failed to condemn some of the protests complicit in these behaviours."
In his response, Mr Asim said he remains "fully supportive of open public dialogue and scholarly debate around historical narratives between Sunni and Shia perspective that does not fuel hatred or division in communities...
"The government's letter did not take into account my continued support for responsible free speech around controversial issues."
He said he "did unequivocally condemn anti-Shia hatred" heard at the Leeds protests to his congregation.
Mr Asim said the government had not contacted him before making its decision and there had been "no opportunity to clarify any misunderstandings".
Related Internet Links
The BBC is not responsible for the content of external sites.