Bradford: UK City of Culture title to bring 'positive vibe'
By Tom Airey
BBC News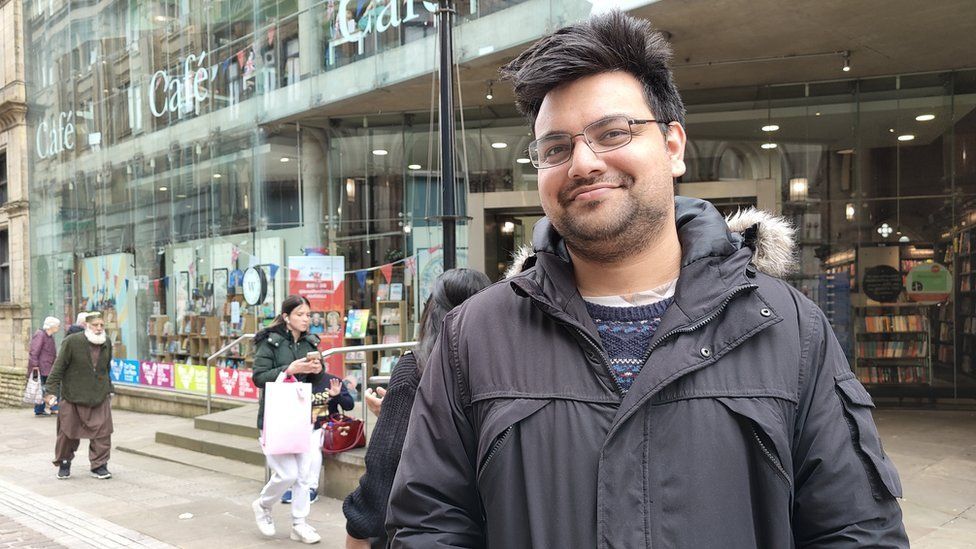 It was a Tuesday evening to remember across the Bradford district, with the future UK City of Culture celebrating its victory with colourful scenes of jubilation as flares ignited and banners were raised aloft near the fountains of City Park. The year-long arts festival will be here in 2025, with organisers claiming it will bring thousands of jobs and £700m of investment. So has the victory sunk in yet among its half a million residents?
As the queues build outside Bradford's St George's Hall, a 3,500-capacity concert hall in the heart of the city, Karen King is still grinning from the announcement made on the One Show last night.
"I'm absolutely made up - I think it's brilliant," says the 59-year-old from Keighley, who has travelled in to the city centre with her three-year-old granddaughter.
The recently refurbished hall, which dates back to 1853 and proudly boasts of previously hosting Charles Dickens, Winston Churchill and Harry Houdini, is today welcoming a young audience - many clutching dragon plush toys - for an early performance of Julia Donaldson's Zog and the Flying Doctors.
Ms King, who says her family can be traced back to 1600 in the district, continues: "Bradford has had this image of being the backside of the north for so long, people don't understand that we've got so much going on and we're on a par with every other city in the north.
"We've got the youngest population in the country in this city, this [win] gives them hope and aspiration, makes so many opportunities and will show them what is possible here."
Among the city's younger residents is 30-year-old Foyzul Hussain, who lives in Eccleshill and is rushing to an eye test when I stop him on Hustlergate.
Speaking outside the city's Waterstones book shop, once a huge wool-trading centre when the textile industry was king in Bradford, he says: "I was really surprised to hear we'd got it, it's great to hear the city will get funding out of it and it'll be good to see some improvements.
"It needs better shops and activities for young people, normally we have to go up to Leeds to find nice things to do - but it's such a diverse city with so much potential."
It was textiles which brought Mohammad Azad to the city 55 years ago, with the now 72-year-old working in a factory for 25 years until the industry declined.
"Since then I've been a private hire driver until I retired three years ago," he says.
Speaking outside Bradford's 19th Century City Hall, he says: "It's great news, as we've had no investment or opportunities in the area.
"When I worked as a taxi driver, passengers were always saying 'I live in Bradford but work in Leeds as there's no jobs here'."
Bradford was announced the winner from a shortlist also including County Durham, Southampton and Wrexham and will follow on from current holders Coventry.
Outside the National Science and Media Museum, teacher Emma Dyson, 41, is treating her two children to a half term trip with their grandparents at one of the city's biggest attractions.
"It's such good news for the city, but they need to improve infrastructure and bring in the facilities to make it work and make the city accessible," she says.
"I've just driven around for 15 minutes to find a parking space, we'd get the bus in but they're expensive - it says it all really."
"We love the literature festival they have here, so more things like that would be great," she adds.
Past the Alhambra Theatre and north up a steep hill is the Oastler Shopping Centre, where 59-year-old Stella Georgiou of the Fountains Cafe is busy serving up fried breakfasts and pots of tea for shoppers.
"It can only be a positive thing for the city, there's a lot of changes happening over the next few years and anything which can bring a positive vibe and interest into the city is good," she says.
Mrs Georgiou, who has worked in the cafe for 28 years, says a key priority should be filling the empty nearby shops to improve the city's retail offering.
"They're building a new office block in City Park, but it seems silly to leave current empty buildings vacant while building new places," she says.
Bradford will soon receive £270,000 in initial funding to assist it in developing its plans and will also be eligible for a £3m grant from The National Lottery Heritage Fund.
Back outside St George's Hall, Ms King looks down at her granddaughter, who's eager to take her seat in the auditorium, adding: "It's fabulous for the little ones too, there's going to be so much going on."
Related Internet Links
The BBC is not responsible for the content of external sites.