Bradford wins UK City of Culture 2025 bid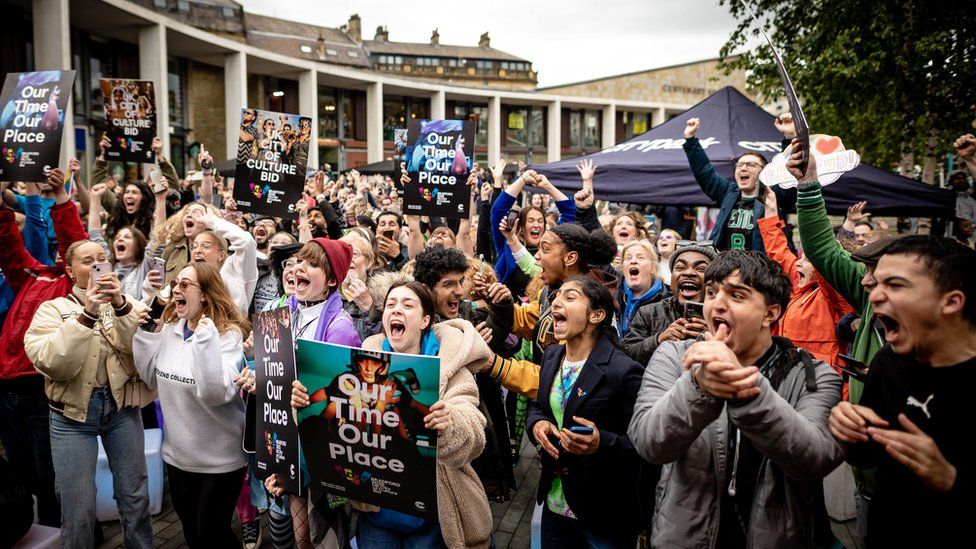 Bradford has won the competition to be named the UK's City of Culture for 2025.
Bradford will follow Coventry, the current holder of the title, and those behind the city's bid believe it will generate £700m and create 3,000 jobs.
County Durham, Southampton and Wrexham had all been shortlisted alongside Bradford.
Shanaz Gulzar who led the Bradford bid described the win as a "huge opportunity".
"To celebrate our extraordinary cultural heritage and for our young, ethnically diverse population - who have been so involved in shaping our bid - to become leaders and changemakers and begin a new chapter in our story."
The artist said for too long the city had been overlooked and underestimated.
"It's now our time to shine."
Bradford's council leader Susan Hinchcliffe said the win would bring "so many opportunities" and the area had started "to come to life as never before".
"Being UK City of Culture brings with it so many opportunities for people not only in terms of creativity and culture, but also for employment, attracting inward investment, boosting the local economy and opening up opportunities for young people to enhance their skills," she added.
The landmark year is set to deliver more than 1,000 new performances and events, including 365 artist commissions, a series of major arts festivals as well as national and international collaborations.
West Yorkshire's Mayor Tracy Brabin said she was delighted Bradford had been chosen.
"No city deserves this more," she said.
"As one of the youngest and most diverse places in the UK, Bradford will benefit so much from this platform to highlight everything it has to offer."
She said the year would be a fitting showcase for the "incredible cultural and artistic" talent in the city.
Crowds in Bradford's City Park watched the announcement live and reacted with jubilation, and the city council tweeted: "OMG we've only gone and done it."
Bradford and the surrounding area have a population of about 540,000 people
In the 19th Century it rose to prominence as home to major textile manufacturing, especially wool
Its Victorian wealth means the city today has over 4,000 listed buildings
Bradford is the world's first UNESCO City of Film, having long been home to the National Science and Media Museum
It has one of the youngest populations in the UK, with a quarter of its residents aged under 16
It is the birthplace of the artist David Hockney, the writer J B Priestley and Zayne Malik of One Direction fame
Films set in Bradford include: Billy Liar; Rita, Sue and Bob Too; The Selfish Giant and Ali and Ava
Haworth, the home of the Bronte sisters, is one of the many villages in the Bradford district
The winner was approved by Ms Dorries based on independent advice from a panel of experts led by TV writer-producer Sir Phil Redmond.
She said Bradford was a "worthy winner".
"Art and culture should be accessible to everyone and this prestigious title will help Bradford deliver unforgettable events for communities on their doorstep.
"There was stiff competition and I thank County Durham, Southampton and Wrexham County Borough for their excellent bids."
Southampton bid director Claire Whitaker said she was proud of the "passion and support of the city" despite losing out to Bradford.
Neal Thompson, co-founder of Focus Wales Festival and a key partner in Wrexham's bid, said the story was not over.
On behalf of Durham's bid, the leader of Durham County Council Amanda Hopgood said they were "disappointed" but congratulated Bradford.
A UK City of Culture is chosen every four years and has previously been awarded to Derry (2013), Hull (2017) and Coventry (2021).
Bradford will receive £270,000 in initial funding to assist it in developing its plans and will also be eligible for a £3m grant from The National Lottery Heritage Fund.
For the first time the three runners up will receive £125,000 to enable them to move forward with some of the elements of their bids.
Sir Phil Redmond said the choice was never about one bid being better than another.
"It is more that one bid has the potential to make a bigger and deliverable impact."
He said he was looking forward to seeing how far Bradford could raise the cultural bar.
Related Internet Links
The BBC is not responsible for the content of external sites.