Star Hobson: Review into toddler's death frustrating, family says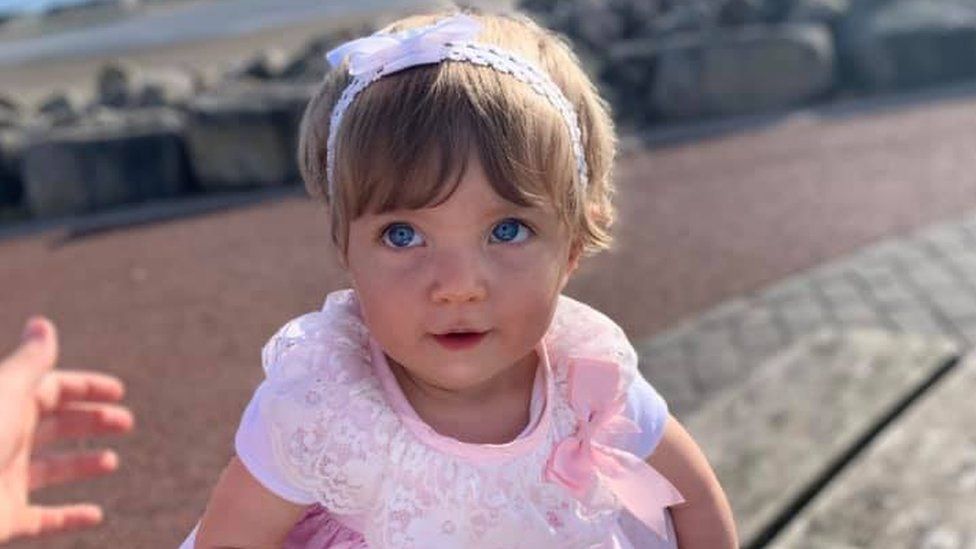 The family of murdered Star Hobson say the findings of a review into her death have left them "angry and frustrated".
Star's mother Frankie Smith and her partner Savannah Brockhill were jailed for their roles in the toddler's death.
The report found professionals accepted the couple's explanations for Star's injuries too readily and failed to properly investigate family concerns.
Aunt Alicia Szepler said reading the findings had made her "so much more angry".
In Star's case, it found assessment visits were "superficial" and meant professionals had only a "limited understanding of what daily life was like for Star".
The little girl was constantly uprooted from household to household but "no professionals understood this", the report said.
Five referrals to Bradford social services were made by relatives and friends who had noticed marks on Star and changes in her personality in the nine months leading up to her death.
The review found social workers "too easily accepted" the couple's explanations for her injuries. In one case, they took no further action after being told one referral was malicious and rooted in a dislike of their same-sex relationship.
The report said: "The growing weight of concerned voices speaking on behalf of Star should have prompted professionals to reconsider the escalating risks to her.
"The fact that she may have been experiencing serious and systematic physical and emotional abuse was never really considered and addressed."
Great-granddad David Fawcett, from Baildon, said Star's family were "really angry and frustrated".
"It's unbelievable," he said.
"If social services did their job in the first place, Star would've still been with us.
"It's upsetting because it's telling you what you know and what should never, ever have happened to Star in the first place. It's very upsetting to have to read it all again."
The report also highlighted interactions with Star's mother Frankie Smith, and said an opportunity for early help was missed during her pregnancy at the age of 17 when the young mother wasn't seen by an ante-natal health visitor.
The Child Safeguarding Practice Review Panel found Brockhill had a history of domestic abuse with a previous partner and was subject to a restraining order in 2015. But no checks were carried out by social services.
Smith was also a target for Brockhill, but abuse between the couple was not assessed, with Smith "not given sufficient space to disclose what was happening to her" to social workers, the review said.
Mr Fawcett believes Smith, his grand-daughter, "was failed herself, really, she was abused".
"What happened to Star, that's what we thought was going to happen to Frankie," he said.
Star's aunt Ms Szepler echoed one finding in the review, which said that "relevant information that would have helped decision-making was not always shared by the police".
"If the organisations had worked together more they might have thought: 'hang on a minute - how come it's been fed to the police and social services by five different people?'," Ms Szepler said.
"If they'd all sat down together and looked into it deeper, they would've seen the wider picture that we weren't being malicious.
"They didn't bother hearing our side of what was going on."
"I was not listened to so I think one of the big changes is for people not to be shunned off and ignored and I think that would be a massive change that needs to be made.
"It will always kind of be heartbreaking for me as Frankie was one of my best friends, so I feel like I'll always love her, but I'll never be able to forgive her."
Ms Jones said she had no intention of contacting Smith in prison.
"Even though it has been two years, it's still very fresh and I still have quite a lot of bad feelings towards what happened and towards her. So I wouldn't want to speak to her again or visit her again... but that could change."
Bradford children's social care service was "in turmoil" in 2020, with high turnover, high caseloads and reduced funding which resulted in assessments being "too superficial", the review found.
Several recommendations have been made including more joined-up information gathering by different agencies and a greater emphasis given to information from friends and members of children's wider families.
Janice Hawkes, chair of the Bradford Partnership, apologised and said: "We know agencies let Star down and we must put things right."
She said the authority had taken steps to address issues highlighted in Star's case but recognised there was still work to do.
"As a partnership we are entirely committed to improving the safety of children across Bradford," she said.
Mr Fawcett said: "We're hoping something will come out of this. We don't want things happening to other children like what happened to Star.
"We hope there are changes for the better."
"After what we've been through I don't really have a lot of hope but I want to be hopeful," said Ms Szepler.
"We just hope they stick to what they're actually saying because... [this] has been happening for years and it keeps happening."
21 May 2019 - Birth of Star Hobson
October 2019 - Frankie Smith meets Savannah Brockhill a month after she separates from Star's father, Jordan Hobson
23 January 2020 - Concerns of domestic abuse and bruising. Following a referral by friend and babysitter Hollie Jones, a social worker visited Star three times and assessed "there were no obvious concerns"
Feb 2020 - Star lives with her great-grandmother Anita Smith when Savannah and Frankie's relationship breaks down
April 2020 - Frankie removes Star from the care of Anita Smith without warning
4 May 2020 - A social work team make an unannounced visit to Savannah's home, where the infant is deemed as being "safe and well", the day after Anita Smith makes a referral. Social workers conclude this was malicious
21 June 2020 - Jordan Hobson submits photos of bruising with concerns over his daughter's treatment by Savannah. Star is checked over by a medic, arranged by police, and they find no concerns believing the bruising was "most likely to be accidental and consistent with Frankie's explanation"
8 July 2020 - Assessment closed down following a medical report
27 August 2020 - A video of Star with bruises on her face emerges and is sent to police. Officers attempt a visit but the couple say they are in Scotland with Star
2 September 2020 - Star's biological great-grandfather Frank Smith makes a referral after seeing another video of bruising to Star. A social worker contacts Frankie, who tells them her daughter bruised herself falling downstairs and this was previously raised with another social worker. The home visit is deferred to 4 September but authorities find no record of a previous contact
3 September 2020 - Frankie and Savannah are contacted by a GP advising Star is seen by a doctor but this does not get acted upon by the couple
4 September 2020 - Social services visit Star and conclude "no further action is taken"
15 September 2020 - The case is closed on the grounds concerns were unsubstantiated and the referral was malicious
22 September 2020 - Star dies of an abdominal haemorrhage caused by blunt force trauma. A post-mortem found the toddler suffered multiple injuries to the scalp, forehead, cheek and back as well as a recent skull fracture and a re-fracture of her right shinbone after she was physically assaulted by Brockhill on numerous occasions in the weeks and months leading up to her death.