Ilkley: A tour of the Sunday Times' best place to live winner
By Julia Bryson
BBC News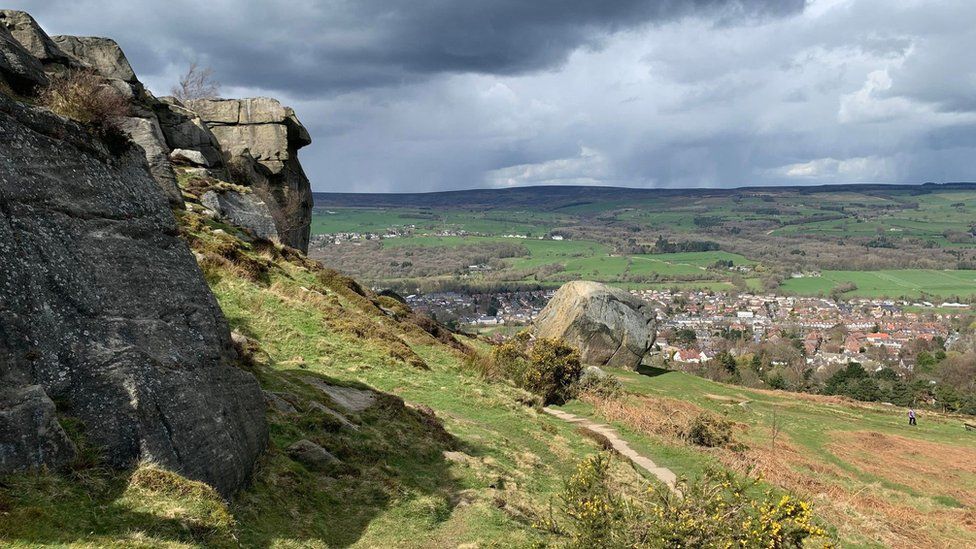 A West Yorkshire spa town has been crowned best place to live in the Sunday Times' annual list of the UK's most desirable domiciles. But what makes it so great? BBC News spoke to some locals to find out.
With a population of about 14,000, Ilkley sits in the southern end of the Yorkshire Dales, surrounded by rolling countryside. It is overlooked by the famous Cow and Calf rocks - a cliff outcrop opposite a giant boulder - that take their names from the cattle that roam the abundant moorland to the south of the town.
Scattered with the remains of prehistoric cairns and carved rocks from the Bronze and Iron Ages, the heather-strewn upland, immortalised in the song On Ilkla Moor Baht 'at, is beloved by out-of-town hikers and local dog walkers alike.
Long popular with tourists paying a visit to God's Own Country, the lure of its reputedly rejuvenating spa waters is said to have brought Charles Darwin to the town in the 1800s. Modern-day visitors are more likely to sample the local independent shops and nightlife, but they can still take a dip in the cold water lido.
Ikley is also rich in history - part of an ancient Roman fort called Olicana can still be seen behind its Elizabethan Manor House - and boasts excellent schools, commuter links with Leeds and Bradford, community spirit and a population with environmental issues at their hearts.
'It has come a long way in 35 years'
Jaz Oldham loves taking photographs of her surroundings and has had her work featured in the local press. She also sells her homemade curries through her business, Chinti's Kitchen.
"I have lived here for about 35 years, and it has developed so much in that time. When I first moved here the demographic was quite different," she says.
"I have seen the community grow and there are lots of independent shops here now.
"You have got everything on your doorstep. There are lots of lovely cafes and shops right here. We've got the moors, you can walk from your house and within five minutes you can be in a lovely space in the fresh air which is really good for your mental health.
"I love taking photographs of the Cow and Calf rocks, the Twelve Apostles, Beamsley Beacon - there are so many lovely walks nearby."
'Small town with a big heart'
Natasha Byers, who runs Toast House cafe on Leeds Road with Lisa Jenkins, says Ilkley is a "small town with a big heart".
"It is the people that make it," she says. "They want to support the independents and keep it alive, keep it vibrant - we really noticed that over lockdown.
"Even though it is on a commuter route, it still has an identity [of its own] and it has people of all different ages who want to make the town better and have a positive impact.
"There is a really great arts scene, there are lots of creatives. If you are lucky enough to live somewhere where you can indulge, creative forms do come out of that.
"We now have these two lovely new businesses opposite, we have the cinema down the road. There are lots of people doing good things and we say every day how lucky we are."
'People are just really friendly'
Interior Designer Ann Marie Cousins runs her business AMC Design from her home. With three children and a busy social life, she says there is something for everyone in Ilkley.
"We've lived here for 11 years. We moved here because we have family nearby, but we love it because there is beautiful countryside here, there are great schools, and there are lots of things for the children to do and for us to do," she says.
"It is within easy reach of Leeds and Harrogate. It is easy to get to the airport, or the train to Leeds and then on to London, if you want to go further afield.
"It feels like it's the best of all worlds.
"There are great places to go out; there are lots of independents and small chains where you can go out with the kids or also just with friends.
"I think Ilkley has a great mixture of newcomers and people who are from here. People are just really friendly."
'I love the freedom it gives the children'
Duncan and Liz Burrows live near the moor and, since the pandemic led to them working from home more, walk their two dogs there each lunchtime.
Mrs Burrows says: "I love the freedom it gives the children, there are so many natural spaces. My son is a keen mountain biker and he virtually lives on the moor, which is great for a 13-year-old. He could be doing much worse than cycling all the time.
"My daughter goes for lots of walks here too, it's really good for their health.
Mr Burrows says: "It gives us the option of getting to the big city [Leeds] in 25 minutes' time, and we are near the motorway network. You have got the countryside on your doorstep and the city round the corner if you want it."
'Big fans of this beautiful town'
Well-known Yorkshire cafe and tea rooms Bettys is a big draw for tourists to the town.
Deputy branch manager Zoe Beedham said: "We're really delighted to see Ilkley honoured as the best place to live in the UK.
"Obviously we're big fans of this beautiful town, we feel very much at home here and a central part of the local community.
"Ilkley is a town with many independent retail and catering establishments who all support each other and delight in welcoming visitors to our town."
'It's got everything here'
Jon Dillon, who co-owns Dillons Premium Fitness Training, moved to the town from London 19 years ago.
"It's just got everything," he says. "The boutique shops, the indie businesses, the moors - you can just walk around and get in to the countryside without having to take transport anywhere.
"You're close to Leeds and Manchester, the transport links are great."
"There is good beer too, obviously," he adds, alluding to the local Ilkley Brewery.
"There are lots of business networks where like-minded people can talk and help each other out, it's a nice community."
Locals have mounted a campaign over the last few years to clean up the River Wharfe, which was recently given a "poor" bathing water status by the Environment Agency.
They fought to get Designated Bathing Status for the stretch of the river where hundreds of people swim each summer, in the hope that it would force steps to be taken to reduce pollution.
The town also attracts visitors over the summer to its Victorian lido, which recently underwent extensive renovations.
But for many, a short visit to Ilkley might be the only way to sample it. According to website Rightmove, the average property sold in the last 12 months went for £453,379.