Leeds Bradford Airport scraps plans for new £150m terminal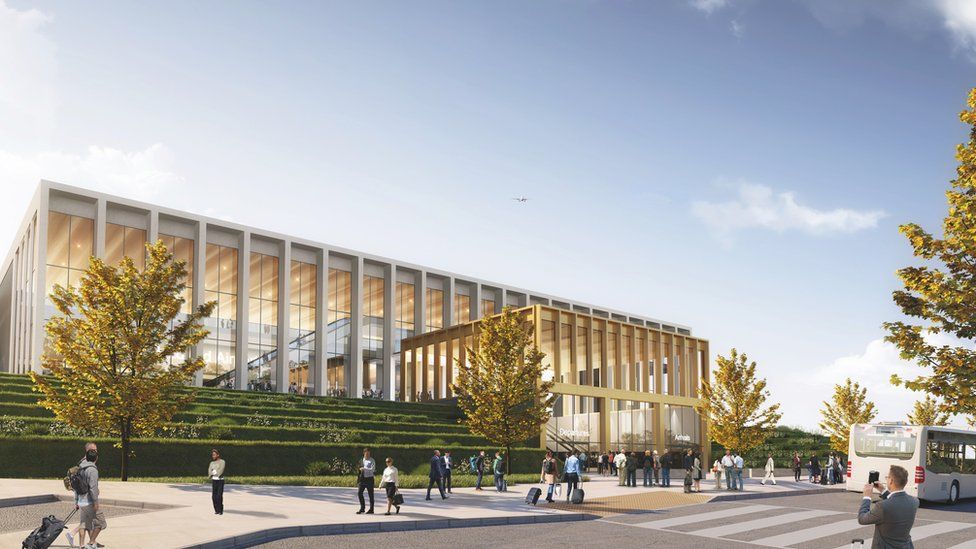 Leeds Bradford Airport has scrapped plans to build a new £150m terminal.
They said they would now turn their attention to extending the existing terminal, plans for which were approved by Leeds City Council in 2019.
Group for Action on Leeds Bradford Airport (GALBA) said it was a "victory for climate and communities".
The latest expansion plan for the airport had caused controversy since it was first outlined in 2020.
The project would have seen existing buildings demolished to make way for the new 366,000 sq ft (34,000 sq m) three-storey terminal.
The airport had claimed the replacement building would be a more efficient and sustainable development, helping it to achieve its carbon net-zero goals by 2023.
Four million passengers journey through the airport annually and the business had already been granted permission to increase that to seven million over a 10-year period.
However, Levelling Up Secretary Michael Gove made the decision to "call in" the latest proposals earlier this year, meaning a public inquiry would be held.
Protesters against the plans included climate scientists, residents' groups and medical professionals.
They said the expansion would make it "impossible" for the city to meet its greenhouse gas emissions target and would cause harmful noise pollution for those living close by.
Vincent Hodder, CEO of Leeds Bradford Airport (LBA), said it was "with regret" that the decision to pull the plans had been taken.
The airport said investment in the project had so far reached £4.2m and it was not prepared to "commit a further uncapped sum over an indefinite timeframe into a public inquiry process when their focus needs to be on modernising the airport for the future".
Mr Hodder thanked people who had supported the plan, adding: "Whilst this is a setback for our airport and region, we remain committed to investing in LBA to be an outstanding, decarbonised, modern airport for the future."
Cabinet Office minister Oliver Dowden said calling in the application was a "perfectly legitimate" thing for the government to do.
"There are people that argue against it and people who argue in favour of it," he said, adding that it was up to the airport if they had chosen not to proceed.
Chris Foren, from GALBA, said: "This is a victory for our climate and our communities - we are delighted that LBA has acknowledged defeat."
He said withdrawing the plans meant the airport could not "extend daytime flying hours nor remove night time flying controls".
"As they said in their own planning application, this means they don't have the capacity to increase passenger numbers above five million a year."
Mr Foren said the group would be keeping "a close eye" on what the airport owners did next, adding: "We remain ready to continue the fight to protect our climate and communities. But for today, we're celebrating success."
Alex Sobel, Labour MP For Leeds North West said he was "pleased" the airport was not continuing with its application at public inquiry.
He said: "From the start this was always about increasing passenger numbers and carbon emissions not getting a new building.
"I hope the airport will enter discussions about reducing aviation emissions now."
Related Internet Links
The BBC is not responsible for the content of external sites.