Halifax Acapulco club sells off sticky carpet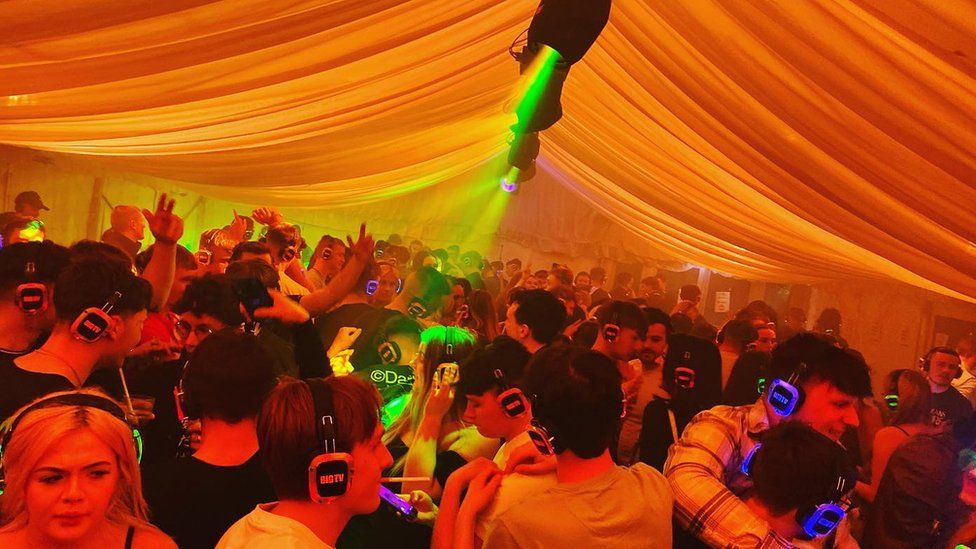 A nightclub renowned for its sticky carpet is selling off souvenir chunks of its storied adhesive floor covering.
Halifax's Acapulco has been a fixture in the Yorkshire town since 1961 and punters have walked its distinctive, swirly patterned tapestry for 20 years.
Owner Simon Jackson said the sale idea came from a man celebrating a birthday with his mum and grandmother who had been club regulars in their youth.
The proceeds will be donated to a local Street Angels group.
Mr Jackson said the Acca - as the club is affectionately known - was a source of memories for generations of people in Halifax.
"We got to thinking how many people have met here and had first kisses, birthdays whatever here, that's when we got the idea," he said.
"Just think how many people have walked on its famous, crazy pattern."
Mr Jackson said the parents of the birthday boy who inspired the scheme had actually met on the Acca's dancefloor.
He said he had even received an email from someone who spread a little of their grandmother's ashes on its carpet a few years ago.
The proposal to sell squares of the carpet - at £5 each or £50 for a more sanitary framed version - started as a joke, according to the owner, but had "snowballed" as people expressed genuine interest.
Mr Jackson, 55, first worked at the club in the 1980s, became its owner in 1995 and still works as a DJ there.
The original carpet was made in Halifax and was due to be replaced several years ago, but a fire at the club followed by Covid restrictions had pushed the work back.
"We are one of a few clubs that have survived lockdown and with being the oldest Acapulco in the country, and family-owned, we feel more responsible to keep it going", Mr Jackson said.
Work to replace the carpet has already started, and is expected to take about two weeks.
"The building is not the prettiest of places but it holds so many memories, it's not a trendy place just somewhere to party and forget your worries," he said.
Related Internet Links
The BBC is not responsible for the content of external sites.