Star Hobson: Bradford Council children's services to be run independently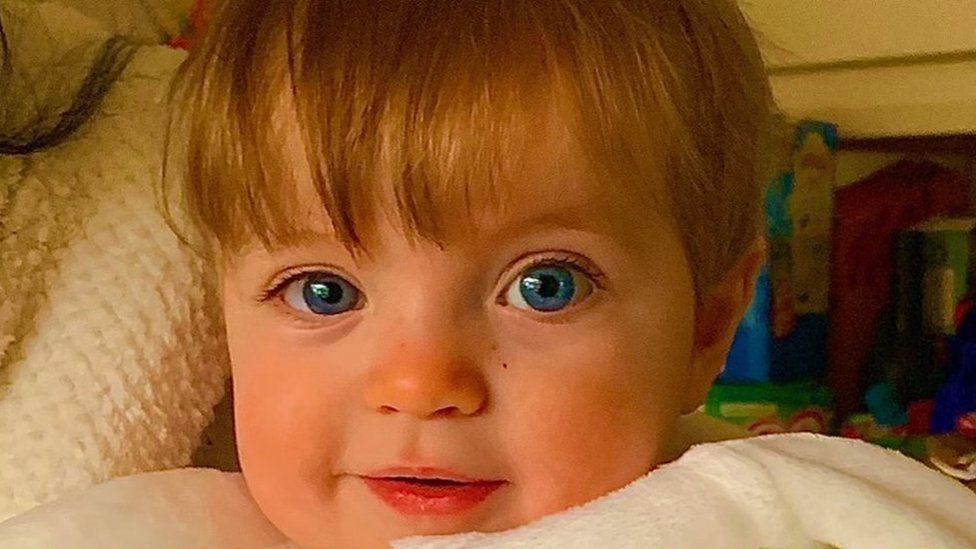 Bradford Council is to be stripped of control of its children's services in the wake of Star Hobson's murder.
The authority's department will instead be operated by a council-owned trust led by an independent board.
Ofsted rated children's services as "inadequate" in 2018 and a commissioner was appointed a year after 16-month-old Star was killed in September 2020.
The trust's creation follows recommendations by the commissioner to Education Secretary Nadhim Zahawi.
Mr Zahawi said: "Keeping vulnerable children safe from harm is non-negotiable.
"Where a council is not meeting its duty to do this, we will take action to protect children and put their needs first."
He said that it was clear from commissioner Steve Walker's recommendations the council needed support to improve.
Mr Zahawi added: "I'm pleased that Bradford council have agreed to establish a new trust that will bring positive change for the council and independent oversight that drives improvements."
Commissioner Mr Walker was appointed by the government in September 2021 over the "slow pace of change" after Ofsted inspectors had said some children remained "at risk of serious harm".
He began his review a year after Star died following months of "neglect, cruelty and injury".
Their trial heard of at least five occasions when concerned family members and friends made referrals about Star's treatment to the council's social services department.
Star bled to death after suffering "catastrophic" injuries at the hands of Brockhill, her mother's "violent-tempered" girlfriend, at the couple's home in Keighley.
Bradford Council leader Susan Hinchcliffe acknowledged the "pace of improvement needs to quicken" but said the trust would enable the authority to focus on "delivering consistently high-quality care".
"Inevitably this will take time and we're acutely conscious that there can be no pause in our improvement journey," she said.
Ms Hinchcliffe said the Labour-controlled authority was committed to supporting "front-line staff".
She said the new arrangement would give members of the children's services department "certainty over the future direction" and an opportunity to draw on resources and expertise nationally.
'Overworked, under-trained'
A whistleblower who works for Bradford Council's children's services department has told BBC Look North about the difficulties faced by people employed by the authority.
They said staff had raised issues with managers in the department about working conditions due to their high case loads, exacerbated by the number of people leaving.
"It's unmanageable workloads. Individual social workers are being set up to fail," the anonymous employee told the BBC.
They added that senior colleagues were "constantly afraid" of hearing things not being done correctly and "just wanted to cover it up".
The whistleblower said staff in the department were "overworked, under-trained, unsupported and voiceless because any grievance you raise, it will be shut down and you will be made an example of".
An independent review examining how the authorities responded to social services referrals in the months leading to Star's death will be rolled into the national review launched in the wake of the murder of Arthur Labinjo-Hughes, the government also said.
Robbie Moore, Conservative MP for Keighley and Ilkley, said children across Bradford had been "repeatedly" failed by the council.
"Vulnerable and looked-after children deserve much better.
"Our area has been haunted by such failings for far too long which has led to so many tragedies in our area, including cases of neglect, continuous child sexual exploitation and the recent tragic murder of Star Hobson which could have been prevented had Children's Services acted upon repeated warnings," said Mr Moore.
He echoed previous calls for Ms Hinchliffe and authority chief executive Kersten England to resign and said he had "no confidence" in their leadership.
Analysis by BBC Social Affairs Editor, Alison Holt
High caseloads, high staff turnover and the use of lots of agency staff are among the problems Bradford's children's services has struggled with over past years.
We don't yet know whether or not those pressures were a factor in the way child protection services responded to the concerns raised by family and friends about Star Hobson. That will be for the official review to decide.
However, the government-appointed commissioner is clear in his conclusion that "the council doesn't have the capacity and capability to improve services at pace on its own".
The new arm's-length organisation will be one of about a dozen independent trusts in England set up after local authority children's services have failed to improve quickly enough.
In some cases, that has led to significant improvement. In others, progress has been much slower.
Not least because changing the structure of services does not in itself deal with underlying problems, such as the difficulty of recruiting and keeping experienced staff.
Naz Shah, Labour MP for Bradford West said there was a "dysfunction across many areas" of the council related to leadership, organisational culture, and a lack of resources, with the latter causing "stresses and strains".
"But you can only use the issue of resources for so long as a mitigating factor.
"The truth is it requires leadership, it takes bold and brave leadership especially given that concerns have been raised, I raised them in 2016 and I've been raising them since.
"This hasn't been happening overnight."