Morrisons takeover: Bradford retail giant in the bagging area
By Tom Airey
BBC News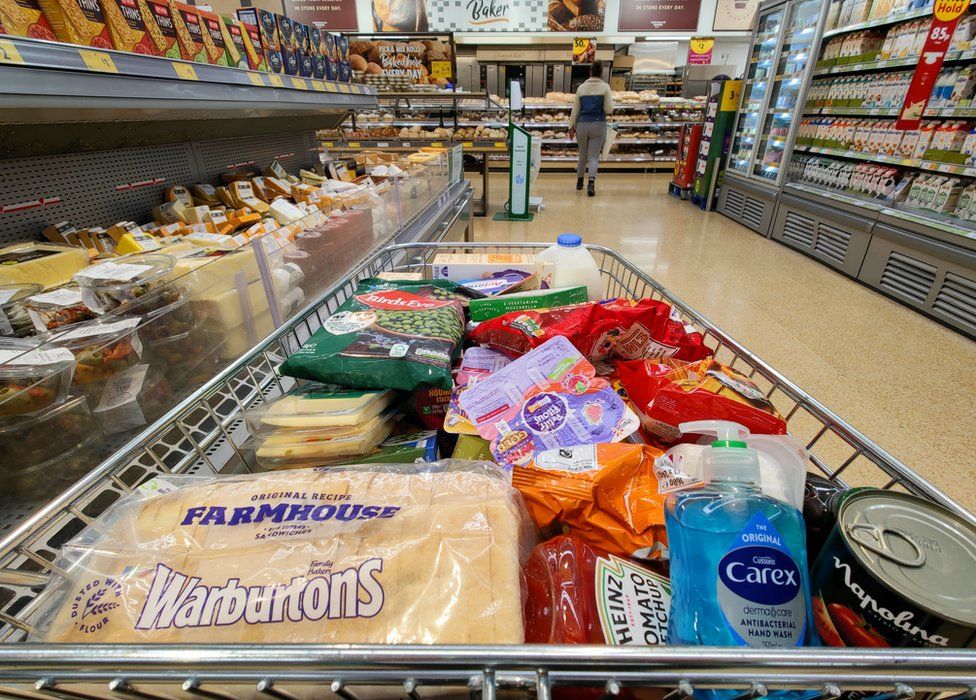 Supermarket giant Morrisons and its 122-year history is currently sitting in the bagging area, having been snapped up for £7bn by US private equity firm Clayton, Dubilier & Rice (CD&R). On the eve of a shareholder vote which could approve the deal, the BBC has been to the company's birthplace to find out what the people of Bradford think.
Morrisons' late owner once said you only need three things on your shopping list to run a successful supermarket empire - good staff, good suppliers and loyal customers.
It was with this ethos that Sir Ken Morrison created the fourth-largest supermarket chain in the UK, building it up from a Bradford market stall to one of West Yorkshire's biggest employers.
Like the beginning of many winning recipes, it all began with Sir Ken's father William Morrison selling eggs and butter at the now-demolished Rawson Market in 1899.
Traders at its replacement, the nearby Oastler Centre, urged the likely new owners to respect the company's origins.
"When big companies take over, particularly American companies, they look at them as franchises as they do with football clubs - it's just another business in their portfolio," says Gunther Giangregorio, who runs what he proudly claims to be the oldest Polish shop in Yorkshire.
While helping an elderly customer lift a huge bag of penne pasta into her shopping bag, Mr Giangregorio, who describes himself and his Roswitha's Delicatessen stall as a "European cocktail" of Polish, Italian and Austrian, continues: "I'd tell them to keep the heart of the company to its Bradford roots.
"They've got a good head office here, I'd encourage them to keep that, and I'd tell them to stay true to what Morrisons' name is about - local produce and supporting UK farmers."
As Mr Giangregorio speaks a butcher, skilfully tying up a joint of beef, shouts the deal was "inevitable - a big fish always ends up eating the little fish",
Next door, fishmonger Neil Priestley fills his ice-covered display with its latest sea bass delivery.
"This stall was founded in 1911 by my great grandfather who would have known William Morrison," says Mr Priestley.
"It'd be nice if the new owners reconnected with the city and built a supermarket on this site, where they first started out, when we move to our new market site in a year or two."
From the metal shutters of the market to the ornate stained glass of Bradford's City Hall, council leader Susan Hinchcliffe hopes CD&R will embrace Sir Ken's well-known disdain for unnecessary debt.
Standing next to a list of honorary freemen of Bradford, featuring artist David Hockney, rugby league coach Brian Noble and - of course - Sir Ken, Ms Hinchcliffe says: "Bradford is a place where we know the value of brass, where every penny counts, therefore a lot of people in the city will understand the attitude of Sir Ken Morrison to money and would probably share that."
Morrisons is among several UK companies that have recently been sought out by overseas investors - and is on the verge of becoming the second UK supermarket chain to be acquired by private equity in eight months after Asda was bought out in February.
Asked if she was concerned about debt-loading, a tactic some private equity firms have been accused of using to increase profits from their acquisitions, Ms Hinchcliffe replies: "I'm a Labour party politician, so that's something I'm not particularly fond of, however, I'm not running a major UK supermarket and we have to be mindful there's a market out there local politicians can't really influence."
The company has 500 shops and 110,000 staff. including more than 5,000 people in Bradford's head office, stores and food manufacturing operations. Retail analyst Catherine Shuttleworth says she understands why CD&R were so keen to secure the firm.
"It's the only supermarket retailer with an integrated supply chain - it's got the shops, the farmers who farm for it, factories that make things for it and they're in control of that," she says.
"If you can make more of that, particularly post-Brexit where we're looking for more products produced in Britain, there's a huge opportunity there and I think they've got a really good deal."
The purchase may have been seen an opportunity too good to miss for Terry Leahy, ex-Tesco chief executive and now a senior adviser for CD&R.
CD&R says it recognises Morrisons' "history and culture, and considers that this strong heritage is core to Morrisons and its approach to grocery retailing", but a key aspect to its local popularity will be maintaining the community links Morrisons has spent more than a century building.
When Covid-19 hit the UK, Bradford Central Foodbank saw demand increase fivefold, with the Trussell Trust site helping to feed 2,500 people a month compared to 500 a month pre-pandemic.
Josie Barlow, foodbank manager, says they benefitted from the supermarket's national £10m foodbank fund set up during the crisis, but had extra benefits from being a neighbour of the supermarket giant.
"Every Christmas we have a Santa's grotto where parents can come in and choose toys for their kids, Morrisons head office gave us all these excess toys that weren't going to be sold so we got 1,000 toys from them," she says.
"Farmers Boy, their Bradford meat and pie production plant, have been giving us pies all the time and we've given them out as part of our cafe's hot meals."
Should shareholders vote through the sale, CD&R would take control by November - or the beginning of the Christmas 'golden quarter' as retailers often describe it.
Morrisons has hired 3,000 extra workers to help the chain deal with the festive demand amid a backdrop of labour shortages and disruption further down the supply chain.
"Retail at the minute is desperate for people, whether that's HGV drivers for lorries, workers on the checkouts or butchers in the butchery departments," says Ms Shuttleworth, founder of Savvy marketing.
"In the short term it'll be all right, it's the longer term of what Morrisons is going to look like and will it have the same values and feeling that a lot of people in West Yorkshire in particular hold quite dear."
A Morrisons spokesperson said: "If shareholders vote in favour of the CD&R offer tomorrow, nothing will change - we will remain headquartered in Bradford and totally committed to playing our full part in the region."
Related Internet Links
The BBC is not responsible for the content of external sites.