Universal Credit: Food banks 'braced' for demand increase
By Tom Airey
BBC News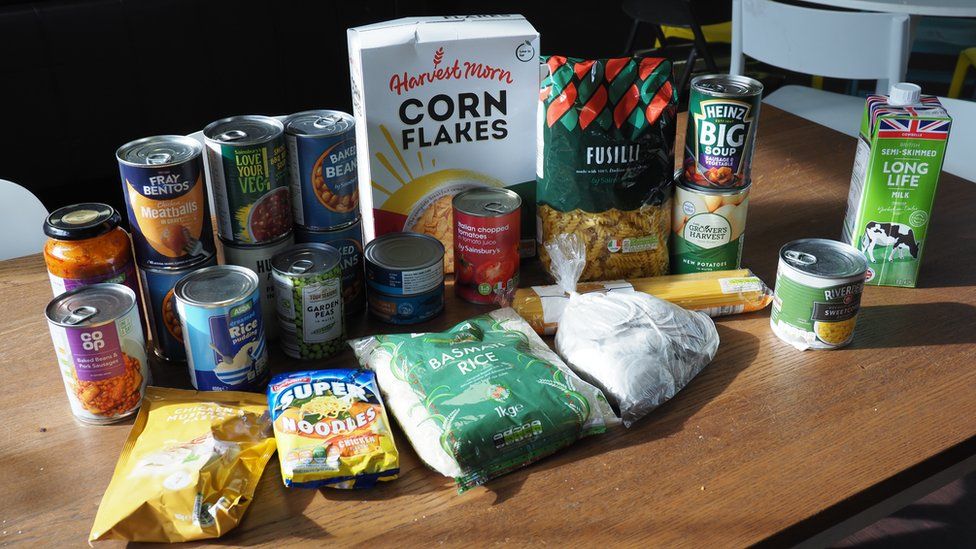 Food banks are "bracing themselves" for a rush of people needing emergency support after the removal of the Universal Credit uplift.
The £20-a-week increase, introduced at the start of the start of the Covid-19 pandemic, ends on Wednesday.
One Universal Credit claimant in Keighley said she would be £240 down by Christmas, meaning her home's central heating would need to stay turned off.
The government said it had been clear the uplift was a "temporary" measure.
The Salvation Army food bank in Keighley gave out food parcels to 3,600 people - or 6% of the town's population - during the 12 months from March 2020, with fears demand could increase once again now the uplift has gone.
Demand for parcels has dropped in recent weeks, but Josh Selfe, commanding officer at Keighley Salvation Army, said an increasing number of people were asking for emergency food help in preparation for the reduction.
"Even with the £20 it was a struggle, Universal Credit was 18% of an average working wage - it's now going down to 14%, so it's a no-brainer that we're going to see people struggling even more," he said.
"There's people who have to go to every single supermarket in the town because they know beans are cheaper in one, nappies cheaper in the other - a whole day of their week is gone just shopping around and making every single penny count."
Rachael, 41, who has required four food parcels in the past six months to help feed her two young children, said: "Sometimes we would not have eaten if it hadn't been for the food bank and that is not exaggerating, it has been that bad.
"My little girl looking in the fridge and saying, 'Mummy, what are we going to have?' - it's heartbreaking."
The government says higher wages, rather than taxpayer-funded benefit rises, will be the better option as the country emerges from Covid restrictions, but charities warn the reduction coincides with an increasing cost of living.
According to the Trussell Trust, 88,000 people in Yorkshire and the Humber fear they will be forced to skip meals, with the Joseph Rowntree Foundation warning 82% of families living in the Bradford West constituency will be affected by the uplift removal.
Bradford Central Food Bank helped 2,500 people a month at the height of the pandemic, with manager Josie Barlow warning people "will be massively hit by the cut".
"People going from £409 as a single person down to £323, it's a 21% cut in income," she said.
"Especially in winter, with electricity bills, fuel prices are rising, that combined with the furlough scheme ending is really going to push many more people to using a food bank."
Rachael, who is currently unemployed and suffers from depression, said she was concerned about winter and the £240 reduction in her budget in the run-up to Christmas.
"I'll have to penny-pinch everywhere, I do not put the central heating on because that would be an extra £30 or £40 a month on gas," she said.
"The [hot] water has gone at the moment, so I'm going round to a friend's house to have a shower."
Mr Selfe said: "The Salvation Army and other organisations are bracing themselves for numbers to go up.
"People on Universal Credit tend to teeter on the edge of desperation and poverty, they have just enough to get by."
A government spokesperson said: "We've always been clear that the uplift to Universal Credit and the furlough scheme were temporary.
"Universal Credit will continue to provide vital support for those both in and out of work and it's right that the government should focus on our Plan for Jobs, supporting people back into work and supporting those already employed to progress and earn more."
Related Internet Links
The BBC is not responsible for the content of external sites.