Harvey Elliott: Liverpool FC star gives fan his kit after hospital meeting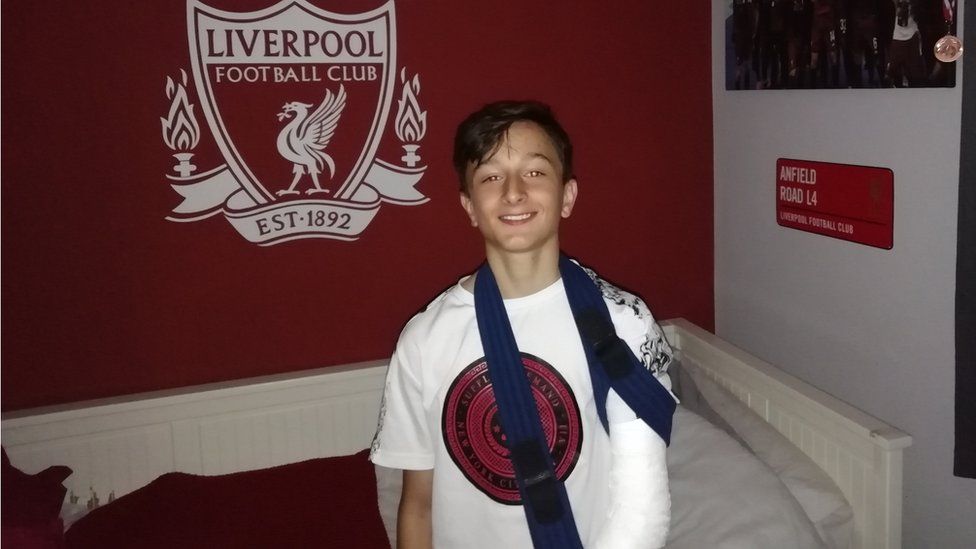 A young footballer who injured himself while playing was "shocked" to find himself having an X-ray alongside one of his heroes, who had done the same.
Liverpool fan Jacob was taken to Leeds General Infirmary after hurting his wrist in a juniors match on Sunday.
Jacob said the midfielder, who gave the teenager his boot and shirt, had also given him a "lot of helpful advice".
Jacob's dad Imran, who is also a Liverpool fan, said his son was at a match with his mother when he was tackled and hurt his wrist.
"It's been a mad 24 hours," he said.
"I knew my son was in hospital with his wrist and I knew Harvey Elliott was stretched off... but I had no idea they'd both end up in LGI X-ray department at the same time."
Imran said Elliott had started talking to Jacob's mother while the teenager had his X-ray and had then spoken to his son.
Jacob said meeting the Premier League star had been "nerve-wracking".
"I didn't know what to say," he said.
"I'm a big Liverpool fan so I told him he's a really good player and he gave me a lot of helpful advice."
He said he would now frame Elliott's shirt and put the boot in pride of place in his bedroom.
His dad said the Liverpool player had told Jacob that he wanted to keep the other boot because it was "lucky".
He added that he was "a bit gutted" not to have been there, but said he was "really proud" of his son.