Leeds Festival: Victim attacked with acid during Post Malone set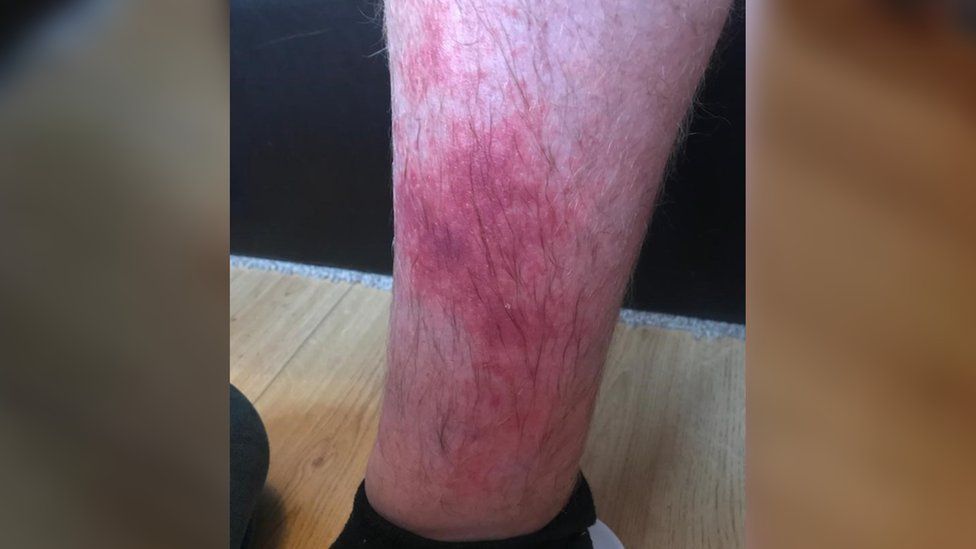 A teenage music fan has described the moment he was splashed with acid at Leeds Festival.
Olly Spencer-Littlewood, 17, was near the front of the crowd watching main stage headliner Post Malone on Sunday when he felt his leg burning.
After being taken to hospital in York for treatment, the Bradford teenager said he was told it was acid and he could be left with scarring.
Witnesses to the attack are being sought by police.
Mr Spencer-Littlewood said he thought he had been splashed with water initially before feeling his leg burn.
"I realised it wasn't water and got one of the security guards to help me over the fence and he took me to the first aid tent," he said.
He was treated for the burn at hospital and was told it was an acid attack.
He said he was worried about being left permanently scarred by the incident.
"I don't know what's going through their head to take acid to a festival and to throw it on somebody else," he added.
"I'm just happy it isn't severe and it wasn't in my face."
His father Craig Littlewood said he was in "shock and disbelief" when he was told his son had been attacked.
"It was like: 'Is someone making a joke phone call?'," he said. "It was terrifying."
"It's one of your babies. He might be 17, but he's still your baby."
Mr Littlewood said he was grateful to hospital and festival staff who helped treat his son's injuries.
West Yorkshire Police said it was investigating the incident and appealed for witnesses to come forward.
Related Internet Links
The BBC is not responsible for the content of external sites.