Batley and Spen by-election: Labour 'egged and kicked'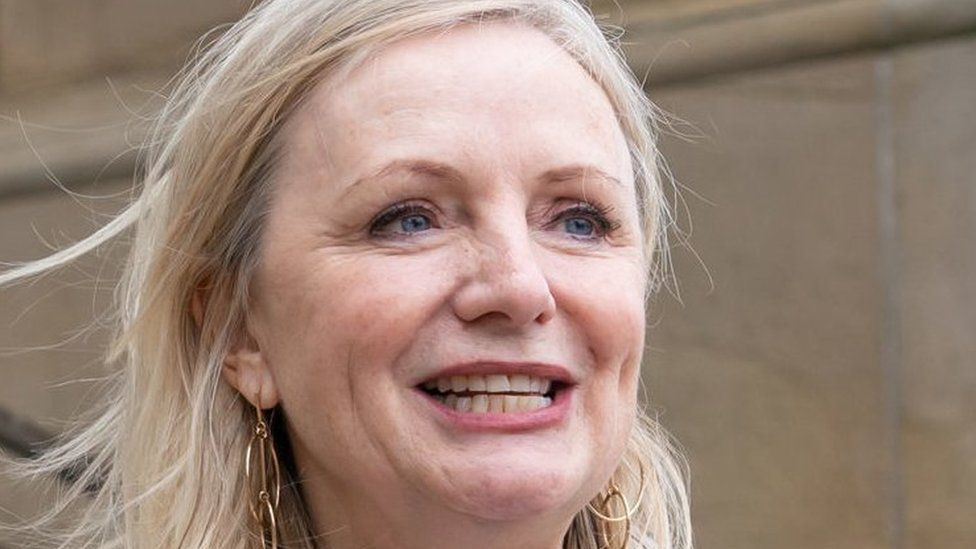 Labour activists campaigning ahead of the Batley and Spen by-election have been pelted with eggs and kicked in the head, the region's mayor has said.
Tracy Brabin said she was leafleting for Labour in Batley on Sunday, when her group was "followed, verbally abused and physically assaulted".
The West Yorkshire mayor and former Batley and Spen MP said campaigners included young people and the elderly.
West Yorkshire Police has issued an image of a man wanted over the attacks.
The force said it sought to speak to the man in relation to eggs being thrown at canvassers in Whitaker Street, Batley, at about 16.30 BST on Sunday.
It said four offences of assault had been recorded, including one in which a man suffered minor injuries from being punched and kicked.
The force said it believed three suspects, described as Asian men wearing hooded tops, were involved.
Ms Brabin - who also holds the police and crime commissioner role for the region - praised officers for their swift response.
She said: "The group I was with included young people and the elderly. I witnessed them being egged, pushed and forced to the ground and kicked in the head.
"We know why tensions are rising in our streets. Those who want to sow division are not welcome in our community.
"The actions of these people do not represent the Batley and Spen I know. We are kinder than this."
Speaking on a visit to Batley, Prime Minister Boris Johnson said: "I think it's appalling that people should face abuse of that kind, absolutely appalling."
Sunday's attacks followed a video shared online of Labour candidate Kim Leadbeater - the sister of former MP Jo Cox, who was murdered in the constituency in 2016 - being shouted at in the street by a man on Friday.
In the clip, he raises his voice at her before she is pursued by a group to a car.
Halifax Labour MP Holly Lynch, who has also been campaigning in the constituency, said: "There has been a series of increasingly serious and violent attacks in recent days and this is absolutely unacceptable.
"Lawless thugs are seeking to intimidate and attack those involved in the proper democratic process."
Police attended a demonstration in Batley on Saturday, in which about 400 people took part and passed off "largely without incident".
Three arrests were made - two for public order offences and one for possession of an offensive weapon.
The by-election, triggered when Ms Brabin stood down following her election as West Yorkshire's mayor, takes place on Thursday.
These are the candidates (listed alphabetically by surname):
Paul Bickerdike - Christian Peoples Alliance
Mike Davies - Alliance For Green Socialism
Jayda Fransen - Independent
George Galloway - Workers Party
Tom Gordon - Liberal Democrats
Thérèse Hirst - English Democrats
Howling Laud Hope - The Official Monster Raving Loony Party
Susan Laird - Heritage Party
Kim Leadbeater - Labour Party
Oliver Purser - Social Democratic Party
Corey Robinson - Yorkshire Party
Andrew Smith - Rejoin EU
Ryan Stephenson - Conservative Party
Jack Thomson - UK Independence Party
Jonathan Tilt - Freedom Alliance
Anne Marie Waters - The For Britain Movement
Related Internet Links
The BBC is not responsible for the content of external sites.