Son wins father's Bradford council seat after Covid death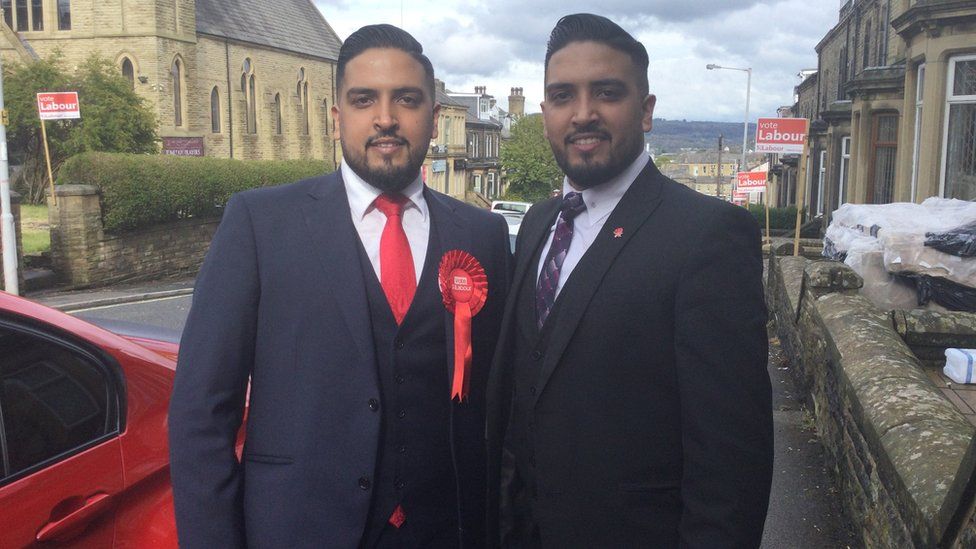 The son of a former Lord Mayor of Bradford who won his father's seat after his death said he will put "everything into making him proud".
Son Mohsin Hussain, 26, won one of two seats that were being contested in the Keighley Central ward.
He said: "I know my dad's boots are very big to fill but I know he had so much faith in me."
Mr Hussain said he had been inspired to follow in his father's footsteps to carry on his legacy.
He said: "My dad's name meant more to me than anything and there's no way we were prepared to let his name fade away and all the amazing work he has done."
Mr Hussain said he had grown up watching his father carry out his council work and the pair talked often about politics.
"He used to say to me 'if I was going to stand someone, I'd stand you' and I'd laugh and say I'm OK thanks," he said.
He described being "incredibly emotional" when the result was announced and said he "couldn't stop crying".
Mr Hussain, who runs an immigration advisory firm based in the town with his twin brother Hassan, said: "I've spent so many years waiting outside voting centres for my dad and today it was my family waiting for me.
"I will do my upmost best to serve the community just like my dad did."
Meanwhile, across the rest of Bradford Council, Labour lost only one seat compared to the 2019 election.
The party now controls 51 of the 90 seats with the Tories scooping up four more seats with a total of 25.
The Liberal Democrats have seven councillors while there are four independents and three Green representatives.
In neighbouring Calderdale, Labour retained seven of the eight seats they were defending and gained the Skircoat ward to see no change in their numbers.
The Conservative Party took seats from Labour and the Liberal Democrats but it wasn't enough to overturn the Labour control.
Meanwhile in Leeds, the Conservatives and independents both made small gains but Labour continues to rule the roost in West Yorkshire's biggest city.
Labour leader James Lewis held on to his Kippax and Methley seat and said the way councillors and candidates from his party had helped people during the pandemic had been key to stemming losses seen in other cities.
Labour went into the ballot with a total of 54 councillors in the 99-seat system and emerged with the same number, preserving their five-seat majority.
The party now has 43 of the council's 63 seats, with the Tory opposition's six gains boosting their numbers to 17.
In Kirklees, at least one seat in each of the council's 23 wards was up for grabs with Labour council leader Shabir Pandor winning his Batley West ward.
Elsewhere, veteran Green party councillor Andrew Cooper, who is standing for the party in Sunday's inaugural West Yorkshire mayoral election, was re-elected.
Despite modest Conservative gains, Labour continued to control a minority administration.