Bizarre Leeds 'bread arch' royal tribute photo revealed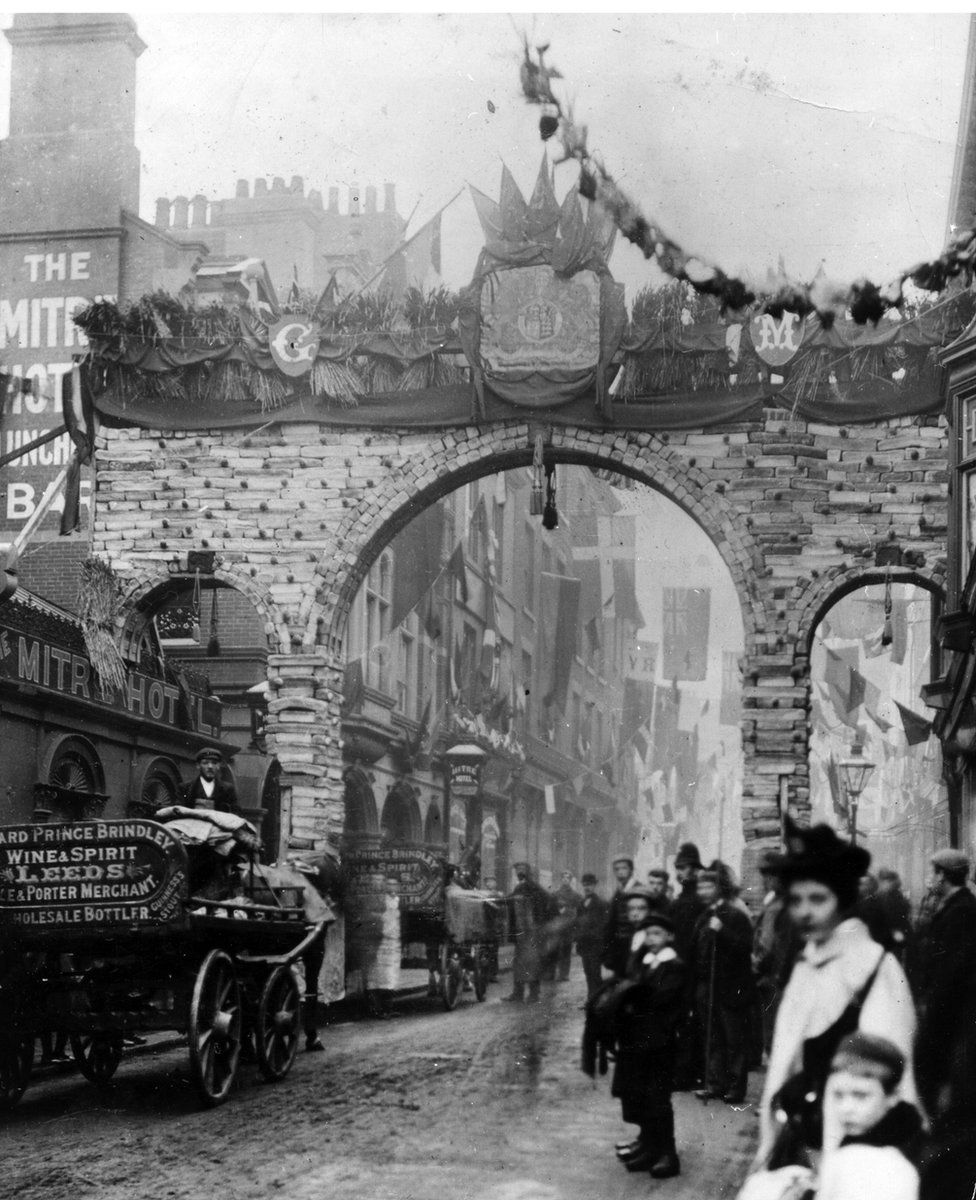 An image showing a bizarre archway made of bread built to greet a visiting dignitary has been unearthed from an archive of over 60,000 images of Leeds.
Taken in 1894, the rediscovered photo shows an enormous bread arch built from about 1,500 loaves on Commercial Street, Leeds City Council said.
The unusual tribute was built to mark a visit to the city by the Duke of York, later George V, and his wife.
The stale loaves were later distributed to the city's poor, the council said.
The photo came from Leodis, an online picture archive managed by the Leeds Libraries service.
The collection contains more than 67,000 pictures dating from 1866 to the present day which have been preserved.
Councillor Debra Coupar said: "Leodis is far more than an archive. It's a powerful living record of day-to-day life in Leeds.
"We hope residents will continue to be inspired by the website and share images or memories."
Browsing the re-launched site, founded in 1999, was a "fantastic opportunity" to learn about the city, she added.
The thousands of pictures held online cover all aspects of the city's history.
Pictures include the female factory workers at the Barnbow No 1 National Filling Factory during World War, snapshots of the gypsy and traveller community and residents captured in photographs of "slum" clearances taken by the City Engineers from the 1890s to 1960s.
Coincidentally, the first ever moving images were captured in the city, at Roundhay and on Leeds Bridge, by Louis Le Prince in 1888.
The Leodis archive brings together library and museum collections with those from the Leeds Civic Trust, the Thoresby Society and West Yorkshire Archive Service.
Related Internet Links
The BBC is not responsible for the content of external sites.