Batley school protests: Prophet Muhammad cartoon row 'hijacked'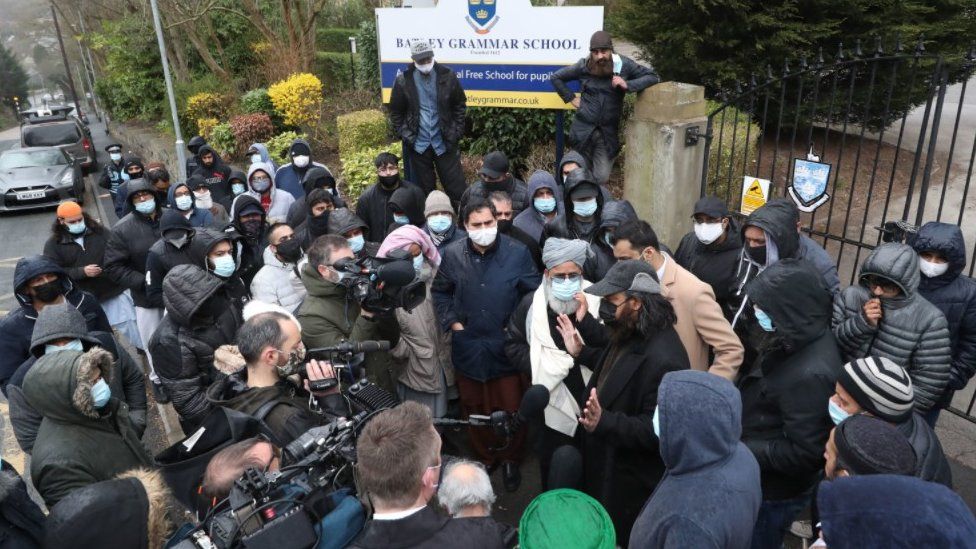 Protests outside a school where pupils were shown a cartoon of the Prophet Muhammad are "deeply unsettling", a government minister has said.
Communities Secretary Robert Jenrick said teachers should be able to "appropriately show images of the prophet" in class.
Protests have been staged outside Batley Grammar School, where a teacher has been suspended.
The West Yorkshire school has apologised "unequivocally".
Head teacher Gary Kibble said the member of staff had been suspended since the image was used in a lesson on Monday.
Demonstrators gathered for a second day on Friday morning, but had moved on by mid-afternoon.
The school, which had been due to break up for the Easter holiday, was understood to have switched to a day of remote learning and the gates remained locked.
Mr Jenrick called for the "deeply unsettling" scenes outside the school to "come to an end".
"In a free society we want religions to be taught to children and for children to be able to question and query them," he told the BBC.
"We must see teachers protected and no-one should be feeling intimidated or threatened as they go into school."
As a crowd gathered on Friday, one protester read out a statement at the school gates.
He said the group "do not accept that the school has taken this issue seriously, given that it's taken them four days to merely suspend only one of the teachers involved".
Another protester, who gave his name only as Mr Hussain, told the PA news agency he was a parent at the school and said: "We would not like any form of extremism, any extremist viewpoints, to be taught to children."
MEND, which helps Muslims engage with British media and politics, said its Islamophobia Response Unit had been helping "several" parents liaise with the school over the issue.
Deputy chair Dr Shazad Amin, said he saw "no problem" with blasphemy being discussed at the school but said the particular image shown to pupils was "deeply offensive" and "furthered stereotypes and anti-Islamic tropes".
As a result, he said people in the local community had "a right to feel hurt and a right to feel angry" but called for them to allow the matter to be properly investigated.
He said parents were "fairly positive" with the action taken so far by the school.
Former Conservative Party chairwoman Baroness Warsi said the debate has been hijacked by "extremists on both sides" to fuel a "culture war" at the expense of "kids and their learning".
She told the BBC she had spoken to pupils and parents over the last 24 hours and "that many pupils were left distressed because of what happened".
Speaking on Radio 4's Today programme, she said: "It's about safeguarding children and making sure the school look again, as should every school, to ensure that every pupil in their school is being taught in a way which creates a positive, unifying learning environment."
By Corinne Wheatley, BBC News
Around a dozen or so protestors who remained outside Batley Grammar School for most of the morning have now left.
The school was due to break up for the Easter holiday today, but the gates are locked and the school is shut.
The protesters here this morning said they wanted to keep things peaceful after concerns were raised yesterday about threats and intimidation towards school staff.
Some passers-by told me they wanted the protest to wind down so they could work on a dialogue with school and to bring an end to the disruption to the local community.
Labour MP for Batley and Spen, Tracey Brabin, condemned those who "seek to fan the flames of this incident", and said she welcomed the school's apology.
In a statement, she said: "No teacher should be facing intimidation or threats, there is no excuse for that.
"The focus must be on the welfare and education of the children at this school."
West Yorkshire Police said no arrests had been made and officers remained at the school.
Head teacher Mr Kibble said the teacher had "given their most sincere apologies" and been suspended pending an investigation.
Geoff Barton, general secretary of the Association of School and College Leaders, called for the school to be allowed to investigate the matter "without a running commentary in the media, on social media, and outside the school gates".
A petition calling for the teacher to be reinstated has received more than 10,000 signatures.
In a statement on Thursday, the Department for Education said it was "never acceptable to threaten or intimidate teachers" and that they encouraged dialogue between schools and parents when issues emerged.
Kirklees Council said Batley Grammar is an academy school so the authority only has a "very limited role" in its running but said it was pleased to see the school had taken "swift action".
Related Internet Links
The BBC is not responsible for the content of external sites.