Covid: Leeds family enjoy stay-at-home 'tropical holiday'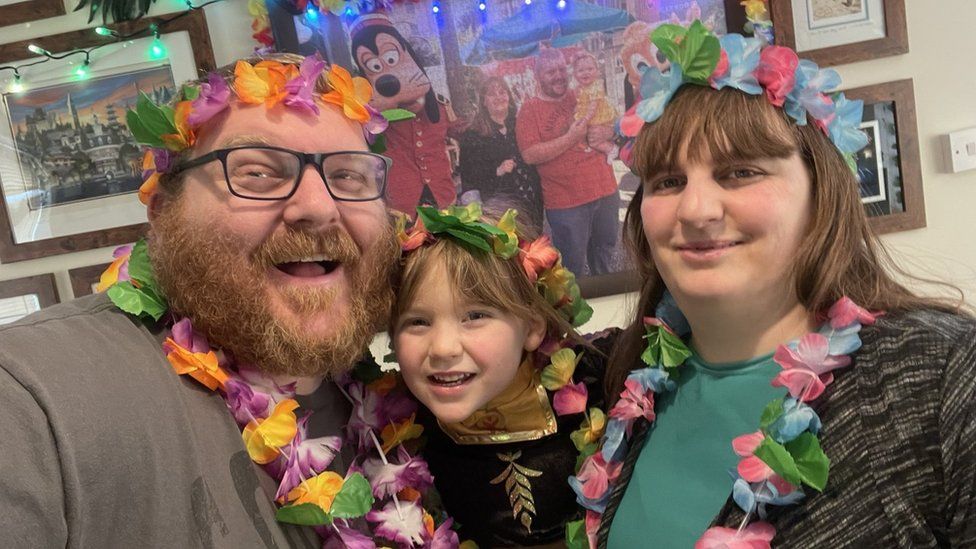 A family have harnessed the power of the imagination to "go on holiday" at home during lockdown.
The Hodgsons packed their bags and embarked on a two-day trip to tropical "Hodgeland", complete with an airport departure lounge and a plane journey.
Taking time out from their mid-week getaway, the Disney-mad family from Leeds said it had lifted their spirits during the "toughest" lockdown yet.
Scarlett, four, said they arrived and found "leaves and flowers everywhere".
The plan was conjured up by Heather Hodgson, with husband Dom kept in the dark about the itinerary along with their daughter.
Their adventures were widely shared on Twitter, with Mrs Hodgson praised for her "creativity and attention to detail".
The Hodgsons had saved for a "trip of a lifetime" involving visits to all six Disney resorts during 2020, but soon realised the holiday needed to be put on hold.
We've all been feeling a bit down recently and so my wife decided we were going on holiday. I was told that I was taking Tuesday and Wednesday off and she's been working on a secret plan 🧵

— Dom Hodgson (@TheHodge) February 16, 2021
Mrs Hodgson said the inspiration for the housebound holiday came from seeing videos of people mocking up the experience of being on an aeroplane using a tablet computer and a washing machine.
"I started planning it two to three weeks before, most of that was list-making, itinerary-building and buying the occasional decorations," she said.
Scarlett said: "I loved being on the aeroplane with the snacks and watching a film, then we came home and there was leaves and flowers everywhere."
Mr Hodgson said his expectations were "blown out of the water".
"The little details really made it, she built a website to check in our passports for our flight, pre-recorded airport announcements and put tropical air fresheners around the room," he said.
He continued: "This lockdown has the combination of being cold and wet so walks aren't as easy.
"Scarlett is now at school rather than nursery so having to manage us both working full-time and managing the education and entertainment of our daughter has led to lots of late nights and team work."
The family said the remainder of the holiday would include family games, time by the "pool" and getting a takeaway to sample "some of the local cuisine".