Bramham: Cyclist injured by woodland pathway wire trap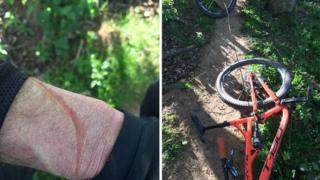 A man cycling through woodland with his son has been injured by a wire strung deliberately across a pathway.
Ben Binner, 52, was cycling through Wothersome Woods, off Thorner Lane at Bramham, West Yorkshire when he ran into the wire.
Police said it had been "deliberately placed across the path with the aim of causing injury."
Greenkeeper Mr Binner who was cycling with his 16-year-old son Johnnie said he was "shocked" and "flabbergasted".
Officers said the incident was being viewed as an offence of attempted grievous bodily harm with intent.
Mr Binner, of Bardsey, said he had ridden, jogged and walked in the woodland around his home area for more than 30 years and had never seen anything like it before.
He said he knew the area "like the back of my hand" and had used that particular trail countless times and "I know for a fact that wire would have been put down that day."
He said: "It's a windy-flowy single track and you can't go fast - maybe nine or 10 miles an hour.
"All of a sudden I was off my bike - what had happened was near my chest and it had sliced through bike cables, cut my wrist and arm, I have a few old bruises, it was a bit of a shock really.
"I thought at first it was a loose wire that had stuck in my spokes, but I looked back up trail and wire went up into a tree and was looped around a branch."
Sgt Dave Lund, of Leeds District Wildlife and Rural Crime Team, said: "The consequences could easily have been more serious and we are treating this incident as an offence of attempted grievous bodily harm with intent.
Follow BBC Yorkshire on Facebook, Twitter and Instagram. Send your story ideas to yorkslincs.news@bbc.co.uk.