PM 'political stunt' police speech in Yorkshire criticised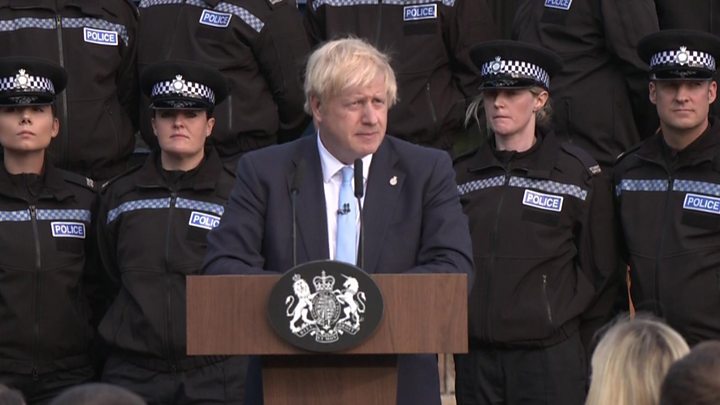 Boris Johnson has been criticised for politicising the police by using uniformed officers as the backdrop for a speech about Brexit.
Thirty-five officers stood behind the prime minister during the speech which included details on police recruitment.
The Police Federation said the decision was wrong while the police commissioner labelled it a "political stunt".
West Yorkshire Police's chief said he was pleased the force was chosen as a focal point for the recruitment drive.
Earlier on Thursday, Mr Johnson took part in walkabouts in Leeds and Wakefield where he was approached by a member of the public who shook his hand before politely asking him to leave his town.
The encounter led to the the hashtag PleaseLeaveMyTown trending on Twitter.
Meanwhile, although the speech in Wakefield focused on police funding, it also referenced a possible general election and was critical of Jeremy Corbyn.
John Apter, chairman of the Police Federation for England and Wales, said: "I am surprised that police officers were used as a backdrop for a political speech in this way.
"I am sure that on reflection all concerned will agree that this was the wrong decision and it is disappointing that the focus has been taken away from the recruitment of 20,000 officers."
'Turned into a rant'
Mark Burns-Williamson, West Yorkshire's Labour police and crime commissioner, welcomed Mr Johnson's pledge to increase police funding which was the main reason for the prime minister's speech.
But he said he was not consulted about details of his visit and has contacted the chief constable for an explanation on why the new recruits were used in such a way.
Calling on Mr Johnson to apologise, he said a visit which should have been about plans for police recruitment was "hijacked" by Mr Johnson and turned into a "rant about Brexit, about the opposition and appeared to be blatant electioneering".
He added: "The news of the recruitment drive and the acknowledgment of how officers and staff have suffered with austerity was completely lost because he was only interested in getting his own agenda across.
"There is no way police officers and staff, who clearly thought it would be all about police recruitment announcements, should have formed a backdrop to a speech of that nature."
During the speech one officer apparently became ill and had to sit down, leading Boris Johnson to ask if she was unwell.
The officer stood up minutes later before being checked by the prime minister as he finished. She was then attended to by colleagues.
Labour's shadow policing minister Louise Haigh said she had written to the Cabinet Office to ask how many officers had rest days cancelled or were taken away from their duties to attend the event.
She has also questioned whether the chief constable had been told the event would "stray beyond the police recruitment campaign when the request was made to supply officers".
In a statement, West Yorkshire Police said the prime ministerial visit was arranged to launch a "recruitment campaign for an extra 20,000 new police officers".
Follow BBC Yorkshire on Facebook, Twitter and Instagram. Send your story ideas to yorkslincs.news@bbc.co.uk.