Racism pushes youth football coach to verge of quitting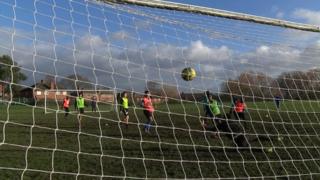 The coach of an under-14 football side says he has been pushed to the point of leaving the sport due to racist abuse his young players have to endure.
Lutel James, who coaches in Chapeltown, said his team experienced "continuous racism" at a recent away match and racist comments at two other fixtures.
Mr James, who has been a coach in Leeds for 20 years, reported the incidents to the West Riding Football Association.
A spokesperson said it had opened an investigation into the allegations.
The coach said incidents during the matches, played in the last three weeks, had seen players called "the N-word, black this, all the negative connotations around race".
During the worst away fixture, the team suffered abuse from players, as well as the home side's relatives on the touchlines.
Mr James said: "The nastiness, the negativity, the racism was deep and at that point, that was the first time I was going to pack in grassroots football because after 20 years, is it ever going to change?"
In another fixture, a Romanian-born goalkeeper was called an "illegal immigrant" after saving a penalty.
Chapeltown Juniors Football Club held a meeting to discuss the problem with parents and players after the abuse.
Chapeltown players on racist comments
"I felt hurt inside but I didn't want to retaliate, I just wanted to keep playing"
"They shouldn't be calling me those stuff - I go there to play football, not to be called names"
"There's no point in doing that, it's only a football game and football shouldn't bring this kind of negative things"
At the top end of the sport, the Metropolitan Police is investigating allegations that Manchester City forward Raheem Sterling was racially abused by a Chelsea fan at Stamford Bridge.
Speaking on BBC Breakfast, ex-England international John Barnes said some would not have been surprised by the abuse suffered by Sterling, as racism remained "prevalent" in British society.
At grassroots level, Mr James said things had not improved and were simply "more disguised".
"The players felt hurt, disrespected, disillusioned - social acceptance is sometimes what these kids are fighting for because it's not naturally there," he said.
"There should be educational workshops for young people that are compulsory for every team that enters a league."
In a statement, the West Riding FA said: "We are committed to tackling all such allegations and encourage any discrimination experienced or witnessed to be reported.
"We will work in collaboration with Chapeltown Juniors Football Club and The Football Association to ensure any proven instances of racism are addressed with the perpetrators concerned."