Huddersfield and Halifax A&E threat hospitals get £200m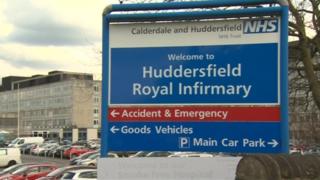 The government is to provide £200m to fund major changes to hospital services in Huddersfield and Halifax.
In the summer, plans to close A&E services at Huddersfield Royal Infirmary were axed by NHS bosses.
This funding will see A&E services stay at both hospitals, but all blue light calls will be directed to Halifax.
However, campaigners fighting to save services in Huddersfield said the town would be left with "a walk-in centre".
Under the original plans, which had been met with widespread opposition, Huddersfield Royal Infirmary (HRI) would have been flattened and replaced with a new smaller centre while accident and emergency would have moved to Calderdale.
In May the former health secretary Jeremy Hunt said the plan was flawed and urged NHS chiefs to reconsider.
On Friday it was announced Calderdale and Huddersfield NHS Foundation Trust would receive £22m in the current spending period with the remainder "following business case approval".
Owen Williams, the trust's chief executive, said: "The decision by the Secretary of State is welcome news on the back of our recent CQC rating of 'Good'.
"We will continue to work with local people, staff, partners, scrutiny and campaign groups to ensure that we create the next steps together."
But campaigners opposing the changes at Huddersfield said the announcement showed there was a "furtive plan" to transfer services to Halifax.
Campaigner Mike Forster said: "The allocation of £196.5m from the government is to carry out the trust's furtive plan to transfer all acute and emergency treatment to Halifax, which will be opposed by our campaign.
"Experience has taught us we just can't trust these hospital bosses to be straight with the people of Huddersfield and Halifax.
"They claim to be saving A&E but, in reality, we would be left with a walk-in centre and a hospital dealing with rehabilitation and non-urgent care."