Yassar Yaqub: M62 associate found guilty of gun offence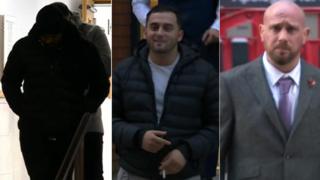 The driver of a car whose passenger was shot dead by police has been found guilty of a firearms offence.
Yassar Yaqub was shot and killed in the passenger seat of Mohsin Amin's Audi by police near the M62 in West Yorkshire on 2 January 2017.
At Leeds Crown Court, Amin, 32, was found guilty of conspiracy to possess a firearm and ammunition with intent to endanger life by a majority verdict.
David Butlin, 39, and Rexhino Arapaj, 28, were cleared of the same charge.
Butlin was found guilty of possessing an offensive weapon and was released on bail.
Mr Yaqub, 28, was in one of two cars travelling in convoy when four unmarked police vehicles surrounded them at junction 24 of the motorway in Huddersfield.
A firearms officer previously told the court Amin obeyed police instructions but Mr Yaqub had crouched down and as he brought his hands back up the officer was "under no doubt he was holding a handgun".
He was shot at about 18:00 GMT after an undercover police operation in which officers had been deployed to observe individuals including Mr Yaqub, the jury heard.
All three defendants were monitored by police travelling from the Cedar Court Hotel in Huddersfield to Cafe de Akbar in Leeds Road, Bradford.
Mr Yaqub was in a white Audi A4 with Amin, and martial arts coach Butlin was driving a white VW Scirocco with Mr Arapaj as his front seat passenger.
The court heard Amin and Mr Yaqub entered the restaurant and dined with two men, with the men in the Scirocco waiting nearby.
On the return journey, the cars were stopped by police who found a fully loaded and operational Russian Baikal pistol under the passenger seat of the Audi, the jury heard.
Officers also uncovered a silencer and a bag of ammunition in the glove compartment.
During the trial, Butlin was asked if he knew Mr Yaqub was "involved in drug dealing", with Butlin answering: "I did not, no."
Butlin was charged with possessing an offensive weapon after officers found a short-bladed "push dagger" hidden in a pocket inside his boxer shorts.
Amin, of Broomer Street, Dewsbury, Mr Arapaj, of Thornlea Road, Huddersfield, and Butlin, of Huddersfield Road, Holmfirth, had denied the offences.
Amin was remanded into custody and is due to be sentenced on Wednesday with Butlin.