Huddersfield refugee 'attack' school inspected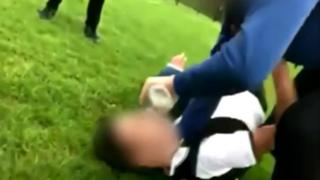 A West Yorkshire school at the centre of bullying allegations has been subject to an Ofsted inspection.
Almondbury Community School in Huddersfield was inspected on Thursday.
Ofsted said: "Where there are concerns about the effectiveness of a school's work to safeguard pupils, we will not hesitate to conduct an inspection."
It comes after video footage of a 15-year-old refugee who was dragged to the ground and had water poured in his face was widely shared.
When asked if it was an emergency inspection, Ofsted said it wouldn't comment on individual inspections.
An inspection report could be published within 28 days.
Latest news updates and stories from Yorkshire
The school had an Ofsted monitoring visit in September and a previous inspection of the school in June 2017 found it required improvement.
Full Ofsted inspections, where schools are told whether they are outstanding, good, requiring improvement or inadequate, are normally separated by a period of years.
The video was shared at the end of November but had been filmed in a lunch break at Almondbury Community School on 25 October, West Yorkshire Police said.
Trevor Bowden, the school's head teacher, said in a letter to parents on Tuesday: "We can assure you that the school is continuing to operate calmly."
He said the same boy had also received a wrist injury on 7 October in the playground that was investigated by police but no police action was taken.
"The incidents were dealt with at the time by our school not at a later date after footage appeared on social media", he added.
A 16-year-old boy is to be charged with assault, West Yorkshire Police said.
The force has said the older boy, who cannot be named for legal reasons, would appear at Youth Court "in due course".
An online fundraising page set up to help the 15-year-old boy and his family raised more than £158,000.
The money raised is to be spent on relocating his family, the family's solicitor said.