Police watchdog inquiry launched after death of man in Huddersfield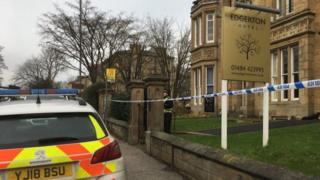 The police watchdog is investigating after a man died following his arrest in Huddersfield.
The 37-year-old was arrested on suspicion of drugs offences following a disturbance at the Edgerton Hotel on Tuesday morning.
The Independent Office for Police Conduct (IOPC) said the man, who has not yet been named, became ill after he was arrested and died in hospital.
It said the man's family had been informed.
Miranda Biddle, IOPC regional director, said: "We have a duty to investigate incidents where someone has died following police contact.
"All officers are being treated as witnesses at this time, and those involved have provided accounts of what happened."