Leeds Kurdish refugee Hossein Ahmadi wins asylum appeal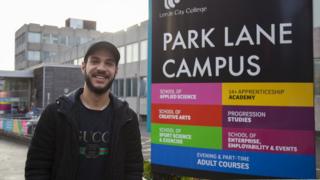 A Kurdish refugee facing deportation from the UK has been given five years' leave to remain by the Home Office.
Hossein Ahmadi feared he would be "executed or imprisoned" because of his family's politics if he was forced to return to Iran.
In November, the Home Office rejected his application for asylum and told him it was safe for him to return.
However, on Tuesday an appeals panel reversed that decision and said Mr Ahmadi could stay in the UK for now.
A Home Office spokesperson said: "It would be inappropriate to comment whilst legal proceedings continue."
After the hearing Mr Ahmadi said: "I still can't believe it's true, but he [the judge] gave me five years' leave to remain.
"It's feels like my first day of coming [back] to life, now I can go to sleep because I haven't slept really for two or three weeks now."
Mr Ahmadi is studying performing arts at Leeds City College and said dozens of his college colleagues had attended the hearing.
He said: "There were two coaches, I think there were 90 people and they really supported me and I feel really positive."
Mr Ahmadi's foster mother Sally said: "It's such a relief to have a decision made today rather than have to wait two weeks. What an early Christmas present."
Mr Ahmadi said there was some initial "confusion" among British officials about his date of birth, which meant that it was inaccurately recorded as 19.
He feared for his safety in Iran following the death of his father, he said.
Also named, Hossein he was killed when his son was a baby for his links to the Kurdish Democratic Party of Iran.