West Yorkshire PC sacked for dodging train fares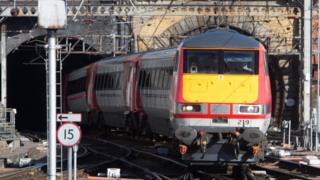 A police officer has been sacked for lying about being undercover to dodge paying a train fare.
PC Damian Groves was on a Virgin East Coast Train from Leeds to Peterborough on 26 April when he refused to pay the £86 fare.
A West Yorkshire Police disciplinary panel heard that he showed a warrant card and claimed he was undercover.
Two counts of gross misconduct were found proven and PC Groves was told he would face "dismissal without notice".
He did not turn up to hear the decision, although he can still appeal against it.
The three-member panel heard PC Groves showed the train guard his police warrant card, refused to pay the £86 fare and questioned the price of the ticket.
When he got off at Peterborough he told a Virgin East Coast staff member that he did not need to buy a ticket as he was travelling to London to conduct undercover work.
Then on 12 May he again produced his warrant card instead of buying a ticket on another Virgin East Coast train from Peterborough to Leeds.
The panel was told that he asked for, but was repeatedly refused, permission to run a scuba diving business while being a police officer and was given a final written warning in December last year.