Two West Yorkshire prison officers jailed for assault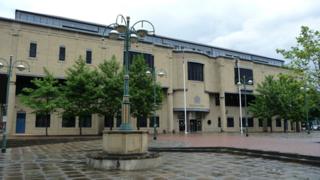 Two prison officers have been jailed after assaulting a 17-year-old inmate who they said had earlier attacked one of their colleagues.
Mark Burnett was jailed for 15 months and Daniel Scott for 10 months after being found guilty of assault.
Passing sentence at Bradford Crown Court, Recorder Ben Nolan QC described the attack as "a punishment beating".
It happened at Wetherby Young Offenders Institution in December 2016.
The teenager, who was physically restrained by officers, was being escorted through a corridor when Burnett shut the door to the exercise yard and said: "Do you think it's funny to assault a prison officer?"
'Downright brutality'
Burnett, 50, who had been a prison officer for nearly 20 years, then punched the teenager in the face and his colleague Scott, 28, also hit the inmate, the court heard.
Recorder Nolan said another officer rebuked Burnett and tried to protect the teenager, while other colleagues were left shocked by the "downright brutality" of what they had seen.
The judge added that the door had been shut so the subsequent assault would not be caught on CCTV cameras.
The teenager needed hospital treatment after suffering a suspected fracture of the nose and severe bruising.
Scars on face
In a victim statement, he said he still had difficulty breathing through his left nostril and had been left with scars on his face.
Barrister Patrizia Doherty, for Burnett, said he had been dedicated to his job which had caused him to suffer a "burn out" and if he had been acquitted of the charge he would not have gone back into the Prison Service.
"There was a degree of provocation in this case where a fellow officer was deliberately attacked," she said.
Barrister Robin Frieze, for Scott, described his actions as "an isolated and spontaneous loss of temper".
"He appears to have been a young prison officer who enjoyed his job and was particularly useful and helpful to the young men and boys he was caring for," he said.