'Undercover' PC Damian Groves dodged train fares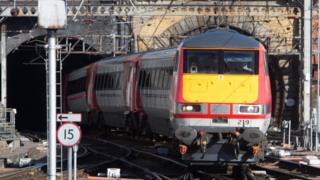 A police officer has been found guilty of gross misconduct after he lied about being undercover to avoid train fares.
PC Damian Groves, of West Yorkshire Police, was on a Virgin East Coast Train from Leeds to Peterborough on 26 April when he refused to pay the £86 fare.
He showed the guard his police warrant card and asked why it was so expensive.
When he was confronted about it in Peterborough, he said he was conducting "undercover work".
Groves produced his warrant card instead of buying a ticket on another Virgin East Coast train from Peterborough to Leeds on 12 May.
A disciplinary panel heard how he asked for, but was repeatedly refused, permission to run a scuba diving business while being a police officer, which eventually resulted in a final written warning last December.
Police officers can pursue other business interests as long as it does not interfere with their main job and the force gives them permission.
After more than two hours of deliberation on Monday, the panel found two counts of gross misconduct were proven.
Groves will find out on Tuesday if he will be sacked from the force.