Thousands sign Kirklees 'unstunned' meat school petition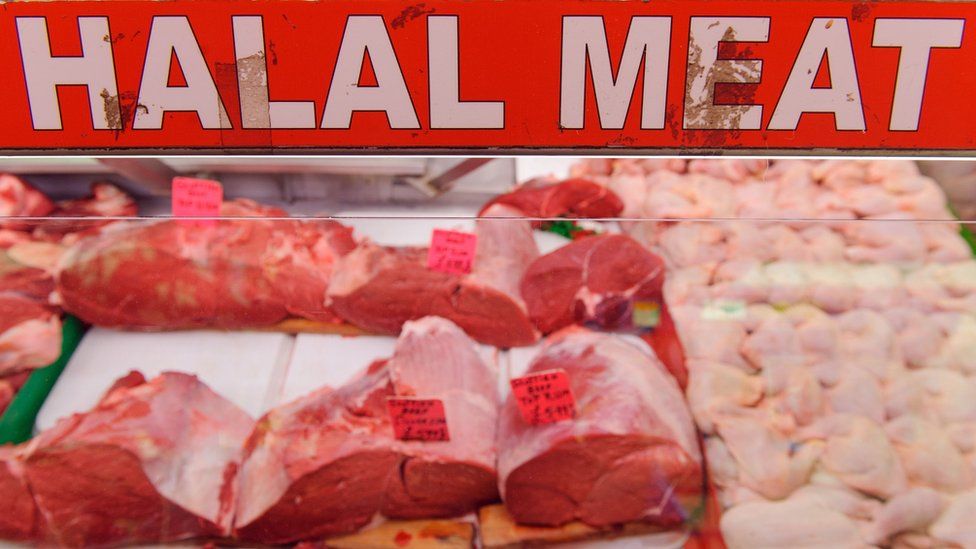 More than 3,000 people have signed a petition asking a West Yorkshire council to stop "unstunned halal meat" being served in schools.
In October, a Freedom of Information request by the National Secular Society found Kirklees Council supplied the meat to 40 schools.
A Conservative councillor told the BBC 16 of these schools were offering no alternative meat to serve to pupils.
Kirklees Council said its school meals policy was "kept under review".
It was developed following consultation with parents, children and representatives of the Islamic faith, a spokesperson added.
The petition states: "We the undersigned call on Kirklees Council to uphold animal welfare standards and only supply meat from animals that were stunned before slaughter".
The Halal Food Authority said it did allow controlled stunning of birds and animals, but maintained a "no stunning to kill" policy.
Speaking to BBC Radio 5 live, Councillor Lisa Holmes said: "I support serving halal in schools, I have no issue with that and completely understand the need for it, but I have a major issue with it being non-stun slaughter, it really worries me."
Halal is Arabic for permissible. Halal food is that which adheres to Islamic law as defined in the Koran.
The Islamic form of slaughtering animals or poultry, dhabiha involves killing through a cut to the jugular vein, carotid artery and windpipe.
Animals must be alive and healthy at the time of slaughter and all blood is drained from the carcass. During the process, a dedication is recited, know as tasmiya or shahada.
There is debate about elements of halal, such as whether stunning is allowed.
Stunning cannot be used to kill an animal, according to the Halal Food Authority (HFA), a non-profit organisation that monitors adherence to halal principles.
But it can be used if the animal survives and is then killed by halal methods, the HFA adds.
Councillor Holmes said the "vast majority" of parents she had spoken to about the issue were "equally unhappy", adding: "I've been told at those 16 schools if you don't want halal you can have vegetarian or fish.
"We have families in Kirklees where it may be their only hot meal of the day - they should be able to choose whatever they want."
More than 80% of halal meat in the UK is pre-stunned and is acceptable to many Muslims, according to the British Veterinary Association.
Discussing the topic at a full council meeting, councillor Masood Ahmed said: "The menus are colour-coded red for halal options and served from red dishes cooked, served and prepared separately," according to the BBC's Local Democracy Reporting Service.
Councillor Ahmed, cabinet member for schools, continued: "It is also on our school meal website informing parents to contact their school regarding halal, non-halal and special diets."
Related Internet Links
The BBC is not responsible for the content of external sites.