Lost Rugby League Word Cup trophy fitted with GPS tracker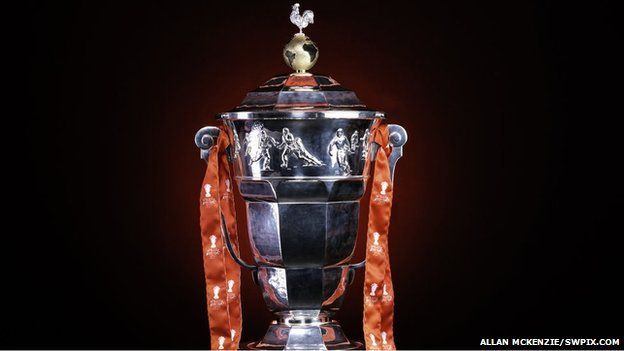 The Rugby League World Cup trophy, which was lost for more than 20 years, has been fitted with a GPS tracker so it can never go missing again.
It was stolen from a Bradford hotel ahead of the 1970 competition before turning up in a ditch in nearby Bingley 20 years later.
Weighing four stone (25kg), the cup has been restored ahead of England hosting the 2021 tournament.
The World Cup chief executive said they would now "always know where it is".
As well as the tracker, a missing cockerel, which formerly adorned the cup, has been replaced.
The bird sits atop the updated 2ft 6in (76cm) prize, which was unveiled in Leeds for the first time in 50 years, after the original was broken off and subsequently lost.
The cockerel has been recreated by the craftsmen at trophy makers Fattorini who also created the original FA Cup and Rugby League Challenge Cup.
Jon Dutton, chief executive of tournament organisers RLWC 2021, said: ""However, we're not taking any chances with the Cup and our new cockerel this time.
"We've incorporated a GPS tracker - a device they obviously didn't have available to them in the 70s. We may never know where the World Cup went during its two missing decades, but we will always know where it is.
"Fans can too, by keeping a close eye on the tracking website."
Professor Tony Collins, sports historian and author, said: "The story of the loss of the trophy back in 1970 is one I've told for many years, so having this new cockerel fitted is the perfect ending."
The men's, women's and wheelchair rugby league competitions are to be staged together with the finals in November 2021.
Sixteen nations will compete in the men's competition at venues to be announced next year.
Related Internet Links
The BBC is not responsible for the content of external sites.