Leeds plaque for soldier killed as WW1 ended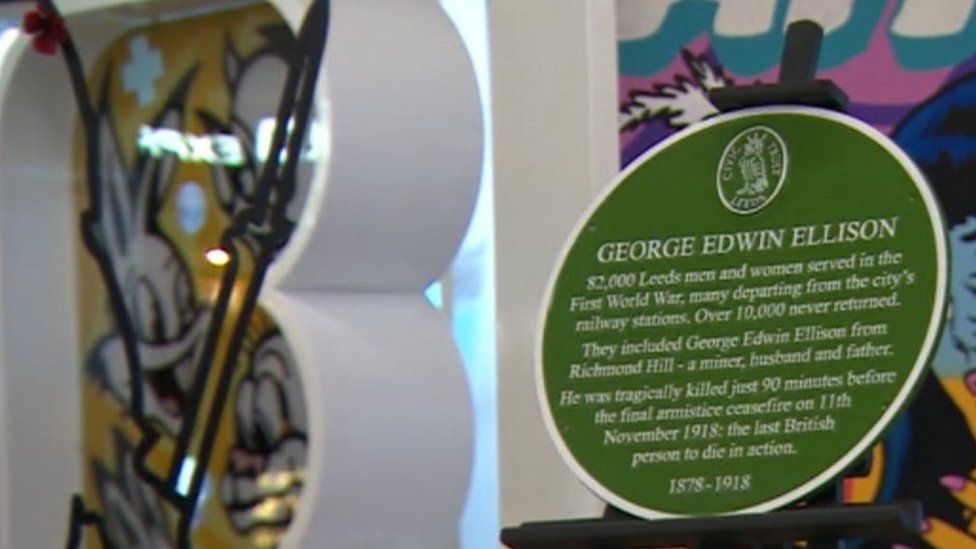 A plaque has been unveiled to commemorate the last British soldier killed in action during World War One.
Pte George Edwin Ellison, from Leeds, died shortly before the war ended on the morning of 11 November 1918.
The Leeds Civic Trust green plaque at the city's railway station was paid for by members of the public.
Forty-year-old former miner Pte Ellison, from Richmond Hill, had been serving with the 5th Royal Irish Lancers from the outbreak of the war.
He was killed by a German sniper at about 09:30, just 90 minutes before the ceasefire, while patrolling near the Belgian town of Mons.
He left his wife Hannah and his son James, who had his fifth birthday days after his father's death.
About 10,000 soldiers from Leeds were killed during the 1914-18 war.
Martin Hamilton, the trust's director, said it had been a "wonderfully poignant, memorable occasion".
"We are remembering an individual who died in unfortunate circumstances but it also represents lots of people, lots of soldiers.
"There is just the one, grainy picture - he is quite anonymous in many ways", he added.
Despite the ceasefire agreement being signed at 05:00, the conflict had continued until 11:00.
Almost 3,000 men lost their lives during those six hours, Pte Ellison was the last of them to have been from Britain, the civic trust said.
He had survived four years of warfare, fighting in the battle of Ypres and at Lens, Loos and Cambrai.
He was killed near where he had seen action for the first time, retreating from Mons in August 1914.
Pte Ellison's body lies in the St Symphorien military cemetery, near to the grave of John Parr, the first British soldier to die in the war.
Related Internet Links
The BBC is not responsible for the content of external sites.