Family 'raging' after council ripped up memorial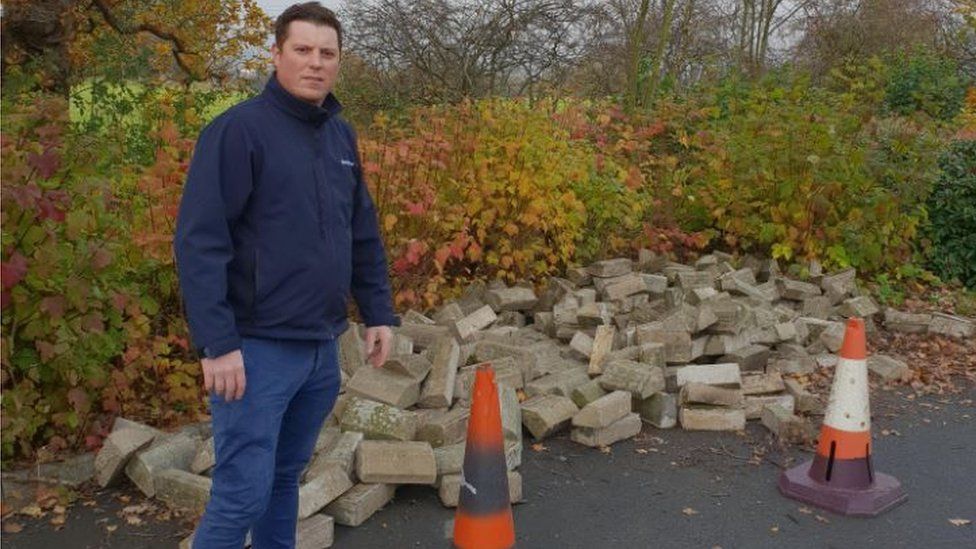 Hundreds of memorial stones have been ripped up by council workers and dumped in a crematorium car park.
Tracie Ogilvie was told the destroyed memorial for her husband Michael Wike had been sent for landfill.
The family made the discovery when they went to lay flowers at Huddersfield Crematorium on the 27th anniversary of his death.
The council said it had sent a letter notifying relatives that leases for the kerb plaques expired in January 2017.
Mrs Ogilvie's son Arron, said he and and his mother had had to rummage through the stones, which had been dumped in the car park next to the crematorium in Fixby.
He said: "My mum and I picked through 300 of them and couldn't find my dad's.
"When we asked at the crematorium office they said my father's memorial had been broken up and had been taken for landfill.
"I am raging. It's an absolute disgrace. What they have done is disrespectful."
'Distressing for families'
A Kirklees Council spokesperson said families were told the council would keep their plaques for three months, but "in reality we have kept them much longer".
The spokesperson added: "I fully appreciate how distressing this can be for families and we have attempted to contact all the families we have records for to try to come to a suitable solution.
"In this case we wrote to the Ogilvie family through the contact name we had, with the aim of avoiding a situation like this, which we regret."
Related Internet Links
The BBC is not responsible for the content of external sites.