Former LGI nurses' home to go in major revamp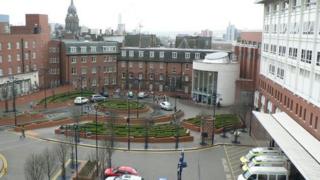 Plans for a major redevelopment of Leeds General Infirmary will include a new car park and the demolition of the former nurses' home.
The city's planning committee were given an insight into the scheme and discussed the plans on Thursday.
Plans for a new "world-class" children's hospital had previously been revealed as part of the revamp.
Details of the scheme now show ambitions for 78,000 sq m of "focused healthcare space" at the city site.
In the presentation document, health officials said the £450m scheme would see "a significant release of currently under-used estate buildings.
Councillors were told: "It is also projected that this will result in an increase and release in operating theatre and critical care capacity to meet increasing demand for neurosurgery and cardiac surgery.
"The scheme will allow the consolidation of maternity services, currently provided over two separate sites, into a single maternity unit."
Read more stories from across Yorkshire
A new children's site would be opposite Leeds' Millennium Square, while the adult centre would be joined to LGI's Jubilee Wing.
The Leeds Teaching Hospitals NHS Trust says it will make its outline planning application to the council in December.
Plans to increase the number of parking spaces with a second multi-storey car park would see an overall rise of 410 parking spaces and 41 drop-off spaces.
In a statement supporting the documents hospital officials said: "The trust is embarking on an exciting journey that will enable it to meet the rapidly changing nature of healthcare and embrace new and emerging advances in clinical services and medical technologies within world-class buildings."
The hospital's plans form a part of the local authority's new Innovation District vision for the city that aims to strengthen links between the hospital, universities and council and to put Leeds at the "forefront of health innovation, research and learning".