Injured veterans to climb Himalayan peak for Remembrance Day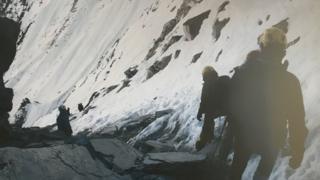 A team of 13 military personnel and veterans have started an expedition in the Himalayas to coincide with Remembrance Day.
The expedition will reach the summit of Mera Peak on Sunday 11 November to mark those who lost their lives in conflict.
It is being led by Leeds Beckett University and Battle Back Centre, the Royal British Legion's recovery centre.
Lyndon Chatting-Walters, a veteran who was injured in Afghanistan, said the timing of the trip was very poignant.
"It's over a time that's very close to my heart so it's hard to say what it's going to be like, but it's definitely going to be one to remember," he said.
The people taking part in the expedition to the summit of the 21,247ft (6,476m) mountain have been wounded, injured or sick while serving.
Battle Back Centre helps military personnel and veterans with their physical and mental wellbeing by running sport and adventure activities.
It works with Leeds Beckett University's Carnegie Great Outdoors to tailor some of these programmes.
Dave Bunting, outdoor development manager and expedition leader, said: "Having worked at the Battle Back Centre, I have seen first-hand the challenges facing some of the wounded, injured, sick and veteran military.
"Leading some of these brave men and women to the summit of Mera Peak will be an amazing achievement for all involved.
"It will also be an extremely poignant moment with us aiming to reach the summit on Armistice Day and Remembrance Sunday."