Family burgled while attending 13-year-old son's funeral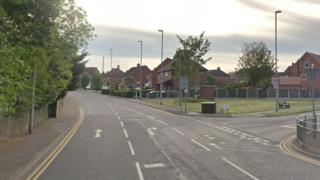 The family of a 13-year-old boy killed in a road accident have been burgled as they attended his funeral.
Thomas Easton died after he was hit by a pick-up truck on Wide Lane in Morley, Leeds on 19 September.
During his funeral service on 16 October, the teenager's home in Newlands Crescent, Morley, was broken into through the rear kitchen window, West Yorkshire Police said.
The family's white Vauxhall Insignia was then stolen from their driveway.
Police said it was later found abandoned and set on fire in Middleton Park, Leeds.
Police Constable Annie Monaghan said funds raised as part of a collection for the paediatric ward where the teenager was treated had been stored in the car and were either stolen or destroyed in the blaze.
She added: "This burglary of the family home has had an understandably significant impact on them at a time when they are grieving the loss of their son.
"Added to this is the loss of a sum of money that had been collected in Thomas's memory to support the paediatric ward where he had been treated."