Rape-accused ex-West Yorkshire PC 'lied to protect wife'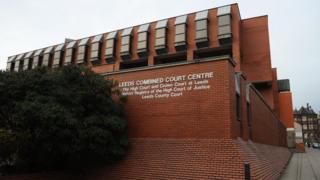 A retired policeman told jurors he lied to detectives about having sexual contact with a woman to "protect" his wife but denied raping the woman.
Former PC David Lomax, 83, is accused of assaulting the woman in 1978 while working as a warrant officer.
Giving evidence he said he had given a false account to cover up the fact the woman had performed a sex act on him.
Mr Lomax, of Esher Grove, Waterlooville, Hampshire, denies rape, and misconduct in a public office.
Prosecutors allege the former West Yorkshire PC went to collect a fine from the woman at her home in Seacroft, Leeds, but when she said she was unable to pay he had told her, "well we could solve this", before taking her into a bedroom and assaulting her.
When interviewed in 2017 he denied the offence. However, he told Leeds Crown Court on Wednesday that the woman had instigated sexual contact.
He said the woman had removed her jacket and unbuttoned her dress in a bedroom. He said he had not agreed to cancel the warrant in exchange for sex.
He said: "I was a bit shocked. What I should have done is, I should have pushed her away and walked out, but I was tempted and I succumbed."
The court has heard that the alleged incident was investigated in 1978 after the woman reported it to police, but Mr Lomax was not charged.
However, in 2017 his DNA profile was matched in a cold case review.
Asked by his barrister, Kitty Colley, why he had lied to police, he said: "I did not want my wife to know there had been any contact between me and this woman at all."
The trial continues.