Leeds uses bubble-bins in city centre recycling push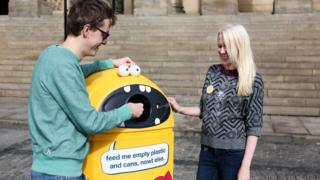 Bins that blow bubbles and machines that offer rewards for recycling are being trialled in Leeds in a scheme launched on Tuesday.
The #LeedsByExample project is claimed to be the UK's biggest push to improve recycling outside of people's homes.
New recycling facilities for plastic, cans and paper cups will be on the streets, in offices, shopping centres, universities and transport hubs.
Organisers aim to roll out successful elements of the project nationwide.
Environmental charity Hubbub and recycling compliance scheme Ecosurety are behind the six-month trial.
Although recycling at home and kerbside collections have improved over the years, organisers said, the rate of recycling on the go was still low.
Recycling reward machines which give discount vouchers for recycling plastic bottles and coffee cups have been installed at Leeds Beckett University and Kirkgate market.
About 13 billion plastic bottles, 9 billion drinks cans and 2.5 billion coffee cups are used in the UK each year, campaigners said.
Gavin Ellis, of Hubbub, said: "The huge range of eye-catching recycling bins and communications throughout Leeds city centre will make it really easy for residents, workers and visitors to spot their nearest recycling point."
"We're also making sure that all of the recycling we collect will be processed in the UK as locally as possible," he added.