Family-run trafficking gang jailed for slavery offences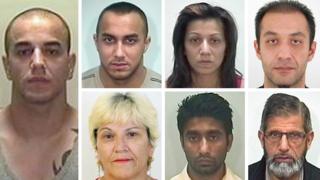 A gang who made a family business out of trafficking workers from Slovakia to Leeds before exploiting them has been jailed for modern day slavery offences.
Six members of the Cisar family forced their vulnerable victims to work for as little as £5 a day.
Police raids on 25 homes in Armley in 2013 led to 37 people being rescued, including a one-year-old infant.
Gang leader Frantisek Cisar was given a nine-year jail term while two landlords were jailed for up to 42 months.
Leeds Crown Court heard some of those exploited had resorted to begging for food to feed their children, despite working up to 10 hours a day, six days a week.
One victim was paid just £3,000 for three-to-four years of work, the Crown Prosecution Service (CPS) said after the sentencing.
The gang approached victims in Slovakia, including a father who had a family of 11 living in a single room, offering them a better life working in the UK.
After they arrived, victims were given building work with a daily allowance of between £5 and £7, with occasional top-up payments.
The Cisar family controlled their bank accounts, took their benefit payments and kept them in poor living conditions, Leeds Crown Court was told.
'Human misery'
Sentencing the gang, Judge Mushtaq Khokhar said: "There could be no greater humiliation to one's dignity than an able-bodied person working all the hours God sends and he could not still provide for his children."
Some of the victims the gang had exploited were either homeless, living in crisis centres, unemployed or alcoholics.
Two landlords in Leeds, Aurangzeb Naseem and his father Mohammed Naseem, were given jail terms for using the Cisars' victims to carry out renovation work on their properties.
Det Supt Pat Twiggs, of West Yorkshire Police, said: "These people were in involved in modern day slavery - a crime that trades in human misery. They traded in victims.
"It is a terrible crime that can have a devastating impact on victims."
---
The convicted gang:
Gang leader Frantisek Cisar, 37, of Rayleigh Street, Bradford - Jailed for nine years for conspiracy to traffic and six counts of arranging or facilitating the travel within the UK of another for exploitation
His brother Marcel Cisar, 34, of Rayleigh Street, Bradford - Jailed for 15 months for arranging or facilitating the arrival into the UK of another for exploitation
Their sister Bohuslava Cisarova, 33, of Blackhill Crescent, Springwell, Newcastle - Jailed for three years for conspiracy to traffic and exploitation
Her husband Arpad Jano, 41, of Thornbury Avenue, Bradford - Jailed for four-and-a-half years for conspiracy to traffic and exploitation
Mother Bohuslava Cisarova, 60, of Rayleigh Street, Bradford - Jailed for two years for conspiracy to traffic and exploitation
Father Jan Cisar, 62, of Rayleigh Street, Bradford - Handed a two-year suspended sentence - due to his ill health - for conspiracy to traffic and exploitation
Aurangzeb Naseem, 43, of Otley Road, Leeds - Jailed for three-and-a-half years for three counts of exploitation
Mohammed Naseem, 59, of Otley Road, Leeds - Jailed for 18 months for three counts of exploitation
---