Government refuses Leeds tower blocks sprinkler funding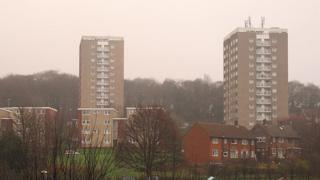 Government funding towards the installation of sprinklers in Leeds tower blocks following the Grenfell fire was refused, councillors heard.
A city council meeting was told it had received a "sound no" from former Communities Secretary Sajid Javid, after asking for financial support.
A total of £10m is being spent on placing sprinklers in every one of the city's 116 tower blocks.
The government said it was reviewing fire safety regulations.
According to the Local Democracy Reporting Service, Leeds' director of housing and resources, Neil Evans, said the £10m "could have been used for other things which we had plans for" but this was a "question of making choices".
"Money was requested for sprinklers, but the government came back to us and said they wouldn't support us with the sprinklers programme," he said.
"We are getting on with it ourselves, but it was a pretty sound no, frankly.
"The government is saying that they would assist councils who don't have the money, which I think is a strange way of putting it."
The meeting was told Leeds tower blocks did not have the same cladding linked to the Grenfell Tower tragedy, which claimed the lives of 72 people in June 2017.
Mr Evans said that while the sprinklers programme was being extended, high-rise flat residents "should not be alarmed" if their block did not have one yet.
He added: "People should be assured that just because they don't have a sprinkler doesn't mean that their block is at risk."
A spokesperson for the Department of Communities and Local Government said: "The government intends to undertake a technical review of building regulations covering fire safety matters and will publish a call for evidence in the autumn.
"Possible changes to the guidance, including on the use of sprinklers, will be considered in this review."