Bradford crime spree teenager Jamie Cowens jailed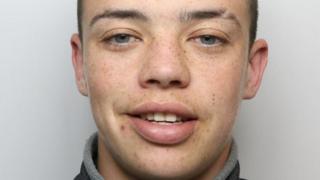 A rising star footballer has been jailed after injury cut his career short and he went on a crime spree.
Jamie Cowens, 19, of St Abbs Avenue, Bradford, targeted occupied homes and also stole cash bags from bus drivers, a court heard.
Cowens admitted house burglary, attempted burglary, theft, robbery, common assault and breach of his criminal behaviour order.
At Bradford Crown Court earlier, he was jailed for four years and eight months.
Cowens had a scholarship and bursary with Bradford City but broke a leg in a serious car accident, the court was told.
His offending included being part of a gang which attacked two occupied homes in Bradford in 2017 while in May he was involved in cash-bag snatches from four bus drivers, the court heard.
Sentencing, Judge Jonathan Rose said: "You were a young man with a very bright future, I accept, and that future was taken away from you, somewhat cruelly, by you suffering an injury which put an end to what may well have been a very promising career in football.
"You are now old enough to understand that your response to that, and your behaviour since then, has been reprehensible. It has been inexcusable."