Leeds Bradford Airport plans for £12m expansion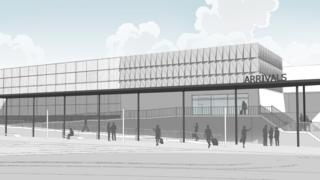 Bosses at Leeds Bradford Airport are hoping to build a £12m extension to the terminal building.
The three-storey building would house a new arrivals area, as well as shops and restaurants.
If approved, the new building would be open by the end of 2019.
The airport said once the extension was complete, the existing terminal would be redeveloped and a new two-storey aircraft pier built to replace the current one.
The airport's chief executive, David Laws, said the plan was to "create an airport Yorkshire can be proud of".
"This new extension will transform the experience for both departing and arriving passengers whilst also adding a sense of place and pride throughout the terminal, as we want to play our part in creating a great first impression for inbound visitors," he said.
The airport will be holding a public consultation about the scheme.