'Terrible death' for dog hanged from tree in Bradford park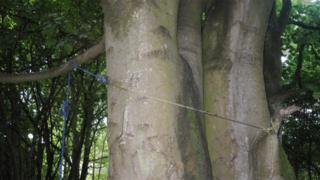 A seemingly otherwise healthy dog was found hanged from a tree in a public park, the RSPCA has said.
The "horrifying discovery" in Brackenhill Park, Bradford, was made by a member of the public last week.
The dog, described as a dark brindle and white bull breed, aged between one and two, had a broken neck and bruising, the charity said.
"There seems no doubt this dog has suffered a terrible death," Inspector Sarah Bagley said.
She described it as one of the worst cases she has ever dealt with.
"Three pieces of rope have been tied together, one end tied around his neck, and hoisted over a tree branch and tied to another branch."
"The vet who has examined him believes he has died as a result of hanging," she said.
According to the RSPCA, the dog was found in a clearing in the woods on 6 September close to a burnt out barbeque and sofa cushions.
Inspectors have appealed for anyone with information about the incident, or the dog's owner, to contact them as a matter of urgency.