Protesters call for Yorkshire Water to ban grouse shooting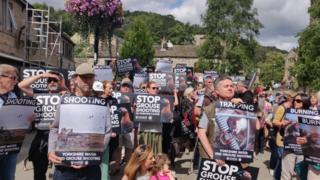 Protesters have called on a water company to ban grouse shooting from moorland in West Yorkshire.
They gathered in Hebden Bridge to urge Yorkshire Water to end shooting the birds on its land.
The company owns 8,000 hectares where it also controls shooting rights, including Haworth and Stanbury moors, and Turley Holes.
Yorkshire Water said a "confrontational approach by banning shooting" was not beneficial.
The grouse shooting season begins on Sunday, the "Glorious Twelfth".
The bird lives in the hills and moorland of Scotland and northern England, and people began to shoot the bird for sport in Victorian times.
It is illegal to shoot grouse, and many other game birds, on Sundays.
Luke Steele, from Ban Bloodsports on Yorkshire's Moors, said jaw traps were recently found on Stanbury moor.
He said it takes over two minutes for weasels and stoats to die in them and added Yorkshire Water should follow Bradford's example.
Bradford Council voted to end grouse shooting on Ilkley Moor earlier this year.
"Every local authority and many utility companies now prohibit the practice on their upland estates," Mr Steele said.
"If Yorkshire Water wants to be recognised as taking its environmental responsibilities seriously, then ending its grouse shooting leases is the only course of action which will suffice."
Paul Carter, of Yorkshire Water, said the company takes its environmental responsibilities "very seriously" but said shooting is a "complex issue".
"Our view is that taking a confrontational approach by banning shooting in areas where we control the shooting rights would have less benefit than working together," he said.
The utility company owns "significant areas of land" where it does not control shooting rights.
Glynn Evans, from the British Association for Shooting and Conservation, said the benefits of grouse shooting are "massive and varied".
"Grouse shooting supports rural communities; families, schools, shops, garages," he said.