NHS chiefs scrap Huddersfield Royal Infirmary A&E closure plan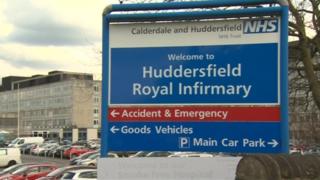 Controversial plans to close A&E services at Huddersfield Royal Infirmary have been axed by NHS bosses.
Calderdale and Huddersfield NHS Foundation Trust had drawn up plans to close the hospital and replace it with a smaller unit and move A&E care.
But in May the former health secretary Jeremy Hunt said the plan was flawed and urged NHS chiefs to reconsider.
Meanwhile, Kirklees Council has put forward plans to build a new hospital between Huddersfield and Dewsbury.
More stories from across Yorkshire
Under the original plans, which had been met with widespread opposition, Huddersfield Royal Infirmary (HRI) would have been flattened and replaced with a new smaller centre while accident and emergency would have moved to Calderdale.
People in Huddersfield would have to be taken to Halifax, Wakefield or Barnsley for full emergency treatment, or across the Pennines to Oldham or east Manchester.
However, revised plans would see it remain open with ambulance patients being taken to Calderdale Royal Hospital in Halifax.
The plans were referred to Mr Hunt by Kirklees Council's joint health scrutiny committee, which passed it to an Independent Review Panel (IRP).
It reported back there were a "wide variety of failings" and warned there were concerns over out-of-hospital care and loss of beds.
Mr Hunt said he had accepted their findings and sent the plans back to the drawing board.
In a letter to new Health Secretary Matt Hancock, NHS England has set out the revised plans.
It says: "Following receipt of the Secretary of State's letter of 10 May 2018 all parties have stood back and looked again at the proposals, focussed on addressing the concerns expressed by stakeholders and the issues highlighted in the IRP's recommendations."
The changes include A&E services being retained at HRI with ambulance patients being taken to Calderdale while bed capacity at both hospitals would be maintained and "adjusted on a seasonal basis".
If approved work could start in 2020.
'Significant investment'
However, campaign Group Hands off HRI says the plans to reduce the level of A&E care in Huddersfield will leave them with just an "accident centre".
Group chair Mike Forster said: "This is not an Accident and Emergency as we all understand them to be."
Proposals for a new hospital, put forward by a cross party group of senior councillors at Kirklees Council, include the provision of "full A&E services".
The council has also unveiled plans for "significant investment" in primary and community healthcare services.
Council leader Shabir Pandor said: "It is vital that the growing population in Kirklees has its health and social care needs properly reflected and planned for."
He said the council had written to Mr Hancock and NHS England to outline its plan.
According to the Local Democracy Reporting Service the facility would cost £300m.